[magyar]


Bálint Szombathy
WHAT ARE BANANAS GOOD FOR?
In conversation with Anna Banana Canadian bananologist*
Anna Banana has been part of the International Mail-Art Network for almost two decades, and is considered as one of the pioneers of Canadian performance art. At the start of her career she developed her own Bananology: in 1971 she launched her newsletter, the Banana Rag, and established an archive, called the Banana Rank, systematising all the information about this popular tropical fruit. On her last European tour she was invited to the Artpool Art Research Center in Budapest, where she presented her video recordings of the Banana Olympics of 1975 and 1980, and conducted scientific banana research among the audience based on the Rorschach test, which explores new psychological depths.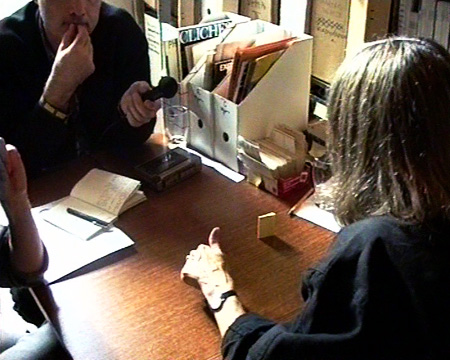 What are you? An artist, or simply somebody who loves bananas?
I am a concept artist, and I do a whole lot of things with bananas besides eating them.
Can you tell me your real name?
Anna Banana. In 1985, by which time I had already been messing about with bananas for twenty years, I officially adopted this name. I made this decision partly because I divorced Bill Gaglione, a prominent representative of the Bay Area Dadaists.
The story of my name brings back memories of how my career started. I was a teacher in an elementary school in Vancouver for five years. There was a group of boys in one of the schools that called themselves Monkey Petrol, and they coined the name Anna Banana for me. Without intending to do so, they actually started me on the path that led to my achievements as an artist and a banana researcher.
As far as I know, your talents really developed in California...
Not in SF with Bay Area Dadaists in '73, but PRIOR to that, in Victoria, BC, where I played Town Fool from Aug. 1, 1971-Sept 30 1972, making public appearances in costume at least once a week, organizing public events and parade entries, and giving workshops in public schools. (all volunteer activity, no pay!) (ie. FOOLish!).
I met the Bay Area Dadaists in San Francisco, Its members, Tim Mancusi, Bill Gaglione and Charles Chicadel, were editors of the Weekly Breeder, which was a typical periodical in the Dadaist tradition. Some issues used the wrong dates, for example 1953. The editors had no contact with the International Mail-Art Network, since San Francisco joined the Network only in 1974, and I had quite a role in that.
Having studied your biography, I have the feeling that you had an aim, or even a mission in mind when you joined the artists of the Bay Area Dadaists, i.e. to take the group, which represented a Neodadaist approach in a more progressive direction.
I had some experience because I had been in contact with the Image Bank group in Vancouver, which was formed to collect pictures and prints of a commercial origin and use. After some time they also started to lend out these images. Lists were made about what motifs were collected by whom. This led to the compilation of living mailing lists that were later circulated in the Mail-Art Network. This happened around 1971, when I launched my newsletter, Banana Rag, which dealt with things connected to bananas.
Meeting the founders of Image Bank was also important for me because it gave me strength and faith to pursue my identity research and to further develop my Bananology. The key role of the group called Western Front is also worth mentioning, because Michael Morris and Vincent Trasov were members of Image Bank too. Trasov invented Mr Peanut, and founded the Peanut Party. Trasov gave performances in Mr Peanut's mask with a black eye and a top hat for ten years and became immensely popular. He was a favourite figure in the press and in television.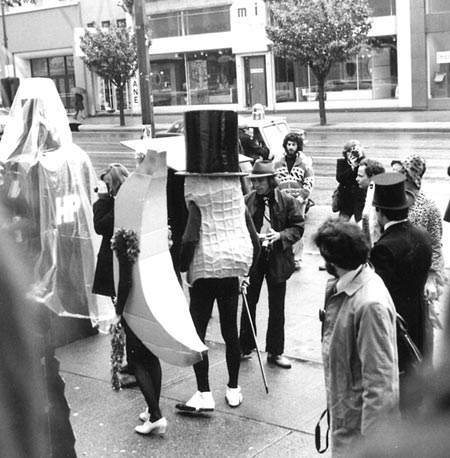 So much so that he ran for Mayor in the elections of 1974 and got 2,745 votes. Identity research took the form of the most bizarre ideas. Eric Metcalfe and Kate Craig, the protagonists of Western Front, became popular as Dr Brute and Lady Brute. They wore leopard-skin costumes and their flats were filled with spotted objects.
I was trying to find my place among these weird, not quite everyday people, and finally found myself as Anna Banana. I had banana costumes...actually quite a few. I was dressed as a banana at a number of street actions. People liked those things because it helped them break out of the passive life which is one of the main characteristics of western consumerism.
Let's return to San Francisco. Your presence brought about a turning point in the progressive art circles there.
You could say that, with a bit of an exaggeration. In any case, things somewhat shifted from the neo-dada position. All this happened without any spectacular formal appearances. We broke with the old tradition but did not do away with all of its elements. It helped that I had some modernist experience that was close to the theatre and to performance art.
In 1971-72 I acted the Town Fool of Victoria and I continued this role for another six years in San Francisco. As a logical continuation of this role, I was attracted to Dadaist sound poetry, so in 1975 I and the Bay Area Dadaists held our first sound poetry performance. Later, Gaglione and I performed Futurist plays. As a tribute to our predecessors we toured Europe Sept. through Dec. in 1978 with our Futurist Sound and with an expanded program, Toward the Future across Canada in 1980, Sept.- Dec.
An important period of my activities in San Francisco is linked to Mail-Art. The Bay Area Dadaists tried their hands at various publications, like the previously mentioned Weekly Breeder, and then Trinity Press. Gaglione had his own publication, the Dadazine, dealing with the genre of visual poetry.
I published my magazine, Vile, in 1974, the title of which is a caricature of Life. Vile grew into one of the most important press organs of the Mail-Art Network. For example, the issue devoted to rubberstamp art, edited by Gaglione, contained only original prints. To this day this publication can be regarded as one of the most comprehensive anthologies of its kind. Géza Perneczky, whose volume entitled A háló (The Magazine Network) was published in English, wrote that when Vile appeared, "a whole lot of excellent Avantgarde publications lapsed into classics." And it was good this way because I was annoyed by the critical comments made about Mail-Art by the older members of the Avant-garde.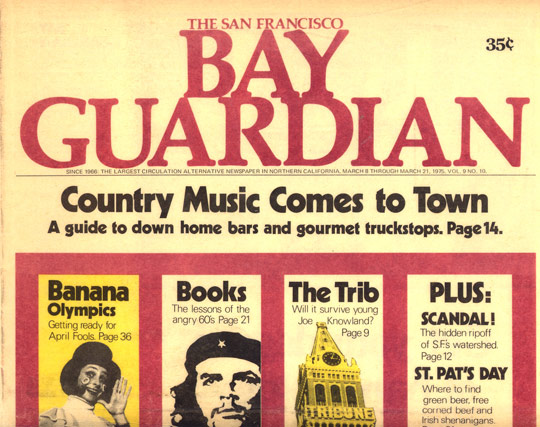 But you didn't forget about bananas in the middle of all this, right?
Of course not. Especially since I broke up with Gaglione in 1982. I returned to Canada and devoted all my attention to bananas. By that time I had organised two Banana Olympics, and acquired experience in lots of areas.
When were these Olympics organised?
I organised the first ever Banana Olympics in the world, in 1975 in San Francisco and in 1980 in Surrey, Canada. These events were not "typical parades" at all, but unique, participatory, stationery public events in public spaces; with costumes and a lot of humour and laughs. I included the most bizarre competitions in the programme, such as a running backwards race, the banana discus and the banana balancing race. At one event competitors ran a hundred meters balancing bananas on their foreheads.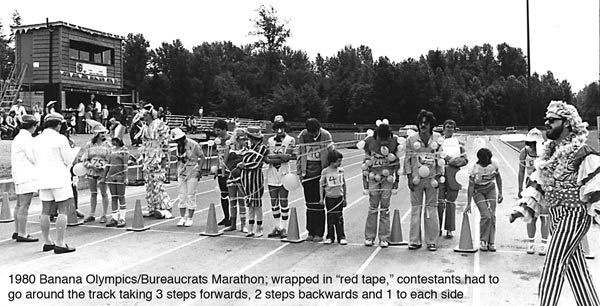 The Bureaucrats Marathon was a favourite, too: contestants had to go take three steps forwards, two backwards, and one to each side, all the way to the last stretch, by which point they were out of breath. We awarded the prizes to the best costumes, the best styles and the most individual creations, as opposed to giving them to those who reached the finish line first. Through a local gallery I hosted a workshop to competitors to create their creative costumes.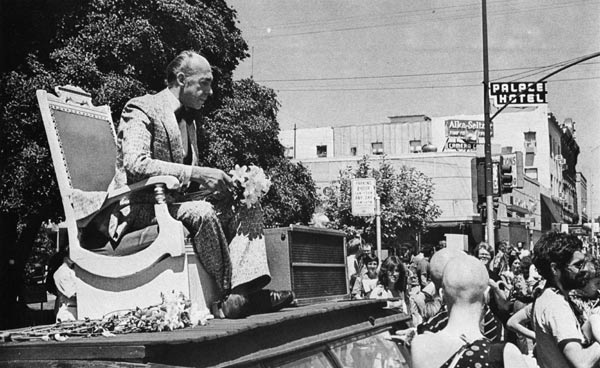 Everybody had fun at the Banana Olympics. People looked at them as a pleasant way of relaxation, and for us they were artistic events. We had a kick out of other things like this, for example, when we welcomed the Italian master Cavellini in California. We received him as the uncrowned king of the Network and actually seated him on a throne. The street processions and carnival-like scenes organised in his honour were joined by some of the passers-by, which we were very happy about.
How did your career develop in Canada, after you began to work independently, although not exactly because you chose to?
I toured with my performance Why Banana? This performance was different from the Futurist scenes that needed virtually no props as it needed an awful lot. I had to do everything on my own, and I realised that it didn't work. At the Inter-Dada Festival of 1984 Victoria Kirby was my collaborator in my performance In the Red. Then, I was mostly interested in colours, besides bananas of course. So the title of my next performance was Fear of Blue. My European tour of 1986, however, was conceived again in the spirit of the banana, just like the one I'm doing now.
What was your goal when you set out on your European "banana campaign", which had twenty-five venues?
The 1993 European tour was to "research the psychological underpinnings" of the exhibit I put on with it: Proof Positive Germany is Going Bananas; over 100 items taken from the German press relating to bananas.
Do you know when the banana appeared on our continent?
In the late 1800s, with the boom of steamboat traffic, when they were able to transport bananas fast enough to sell them on the market when they were still green, i.e. fresh.
Is it true that Germans are the greatest fans of this mysterious, thought-provoking fruit about which so many popular songs have been written?
Looking at it objectively, Germany and bananas are not compatible notions but I can tell you that Bananology triumphed there. Germans organise a lot of events connected to bananas. They make flags and T-shirts with bananas printed on them. When I went to Stuttgart, there was a food exhibition on in the technology museum, and linked to that they organised a banana day. I saw posters of a reggae band called Radio Banana in Berlin, and in Sierksdorf by the Baltic Sea I had the chance to see the world's first Banana Museum. There are specialised bananologists there, too, but I differ from them in the sense that I my interest is focussed on the fruit's presence in (mail) art. I don't approach my subject with external objectivity, but instead use it as an extension of my personality and my behaviour.
Do you have a banana tree in your garden?
I planted one once, but it didn't work. So I stick to using bananas on my artistamps.
How many bananas do you eat a day?
Usually one.


---
*
The Hungarian original
(Mire jó a banán? Beszélgetés Anna Banana kanadai bananológussal)
has been published in the June 1995 issue of Magyar Műhely (Hungarian Workshop), (Vol. 34, No. 96, pp. 41-46), English translation by Krisztina Sarkady-Hart, 2009.