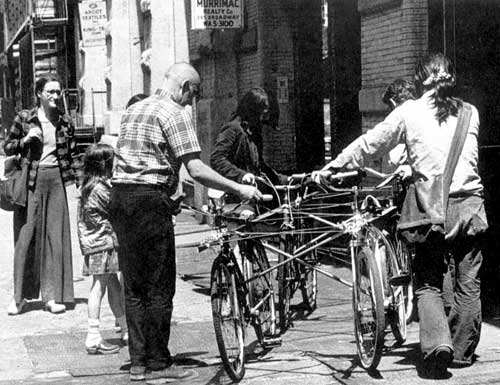 Barbara MOORE watching George MACIUNAS (center) and others
prepare MACIUNAS' MULTICYCLE during Flux Game Fest, 1973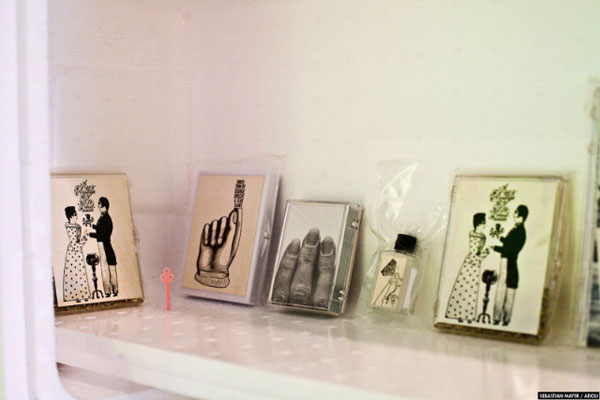 Reflux editions. Exclusive courtesy of Barbara Moore for Bound & Unbound, NYC.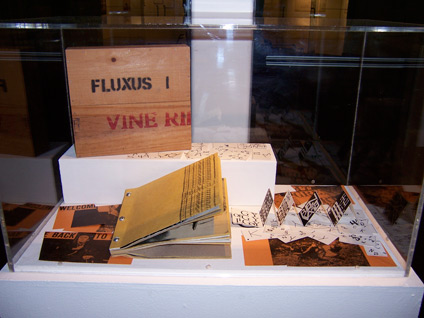 An unknown number of copies were produced by Maciunas from 1964 until his death in 1978. This example is one of 14 published by ReFlux Editions in 1984 that were collated from original printed matter and constitute the completion of the edition. Courtesy of
Barbara Moore
ReFlux Editions was founded by
Barbara Moore
in the early 1980's as a vehicle for continuing the publication of classic Fluxus multiples. Moore who was a close associate of the Fluxus founder, publisher and designer George Maciunas from 1964 until his death in 1978, followed Maciunas' wish to keep Fluxus multiples in print indefinitely. These multiples were intended as inexpensive alternatives to unique and valuable art objects, further undermining the concept of preciousness by their quotidian nature and lack of exclusivity.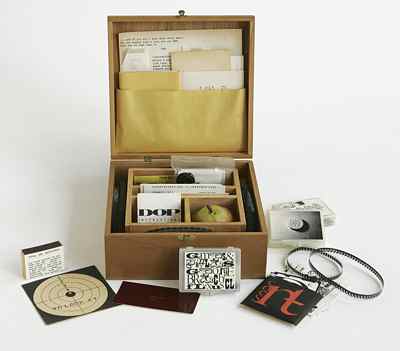 Barbara and Peter Moore Fluxus Collection Acquired by Harvard University Art Museums
Barbara Moore is an art historian, writer, and former rare-book dealer specializing in avant-garde art of the 1960s, '70s, and '80s. She was first editor (1965–66) at Dick Higgins's seminal Something Else Press. Since then she has written essays on and curated exhibitions of artist's books, multiples, and alternative media, covering the work of Dieter Roth, Lawrence Weiner, Charlotte Moorman, Peter Moore, Boekie Woekie, and many others. Among numerous projects on the subject of Fluxus, she curated the first Fluxus exhibition in New York, Collectors of the Seventies, Part III: The Sohm Archive (The Clocktower, 1975); wrote George Maciunas: A Finger in Fluxus, about Maciunas's graphic design (Art Forum, 1982), and curated George Maciunas: More Than Fluxus – Graphic Design, Objects, Ephemera (Ubu Gallery, 1996).

Peter Moore (1932–1993) photographed Fluxus activities, happenings, Judson Dance Theater, and multimedia and other innovative performances from the 1960s through the 1980s. Selections from his extraordinary photographic archive, consisting of several hundred thousand black-and-white and color images documenting this era, have been exhibited and published internationally. Moore began his career as assistant to the photographer O. Winston Link in the 1950s, studied with W. Eugene Smith among others, and was Senior Technical Editor of Modern Photography magazine (1978–1989). His visual history of the demolition of Pennsylvania Station was published in 2000 in The Destruction of Penn Station: Photographs by Peter Moore, edited and with an introduction by Barbara Moore.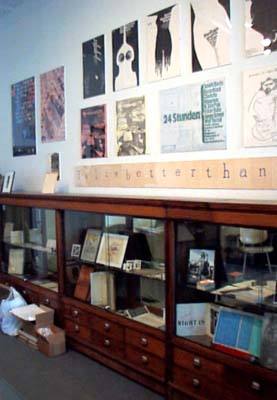 "The World of Charlotte Moorman,"
Mar. 28-June 30, 2000,
at Bound & Unbound, New York, N.Y.
Ray/Bay: A New York Travel Diary by John Held, Jr.
Friday, January 15, 1999
With the Printed Matter show installed to our satisfaction, we've made plans to visit Barbara Moore's gallery Bound & Unbound on the 12th Floor of a large building at 601 West 26th Street in Chelsea.. Specializing in Fluxus, and herself a participant in numerous Fluxus events along with her late husband Peter, who was the Fluxus photographer of record, Barbara began art dealing in the mid-seventies as the co-owner of Backworks with Jon Hendricks. I remember purchasing a George Macunias stampsheet there for $15 in 1978, which is today worth some $600, and a copy of Ray Johnson's Paper Snake for it's cover price of $3.47.
Specific Object – Advenced Search :
Barbara Moore