HOMAGE TO VERA MUHINA
performance May 24, 1980, Hősök tere (Heroes' Square), Budapest
with Julia Klaniczay and G. A. Cavellini
and its elaborations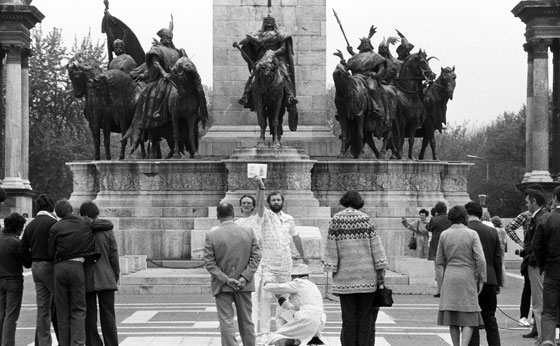 photo: György Hegedűs
Idea: Man is a "trans-functioned" statue.
Realization: The reinterpretation of Vera Muhina's statue (the birth of the "statue vivante").
The original: A statue symbolic of the worker-peasant alliance: a man and a woman striking a purposeful pose, their hammer and sickle (symbols of the revolution) raised high above their heads. Muhina's statue stood atop the Soviet pavilion at the Paris Expo of 1937; later, the Mosfilm Studio adopted it as its emblem [video]. To the public mind, it came to symbolize the Soviet Union as a whole.
Reinterpretation: Similarity: The figure "man and woman" harks back to the most deep-rooted of conventions; it is the smallest unit of the collective. Purposeful, forward-striding pose.
Differences: Hammer and sickle are replaced by a book. The reproduction of the statue in the book is, at the same time, the starting point of the reinterpretation, and part of the reinterpretation. Within this new context and related to the book, there's writing on the figures' clothing: the most distinguished names in art history, signifying world art. The man and woman represent not two different classes, as in the original, but the smallest unit of a classless world.
Location: Hősök tere. The scene of displays of national pomp and political power, under whatever government. The nation's theater. (The new National Theater is to be built on Felvonulási tér [Parade Square] not far from here.) The point to which Budapest's one and only avenue leads. The avenue starts in the heart of the city, to come to rest in a natural setting, [a park]. It terminates in the sweeping semicircle of the Millennial Memorial. It is here that [statues of] the key personalities of Hungary's thousand-year history are on display. The Museum of Fine Arts on the left of the square stands for the old masters and for world art; across, on the right, the Exhibition Hall with its constant stream of temporary exhibitions stands for contemporary art. The geometric center of this square was the setting where the "trans-functioning" of the statue was enacted.
Direct motivation: The presence of the Italian artist G. A. Cavellini, and the possibilities inherent in his artistic approach: self-historiography. Cavellini's manuscripts - written on the naked bodies of other people or on objects, such as his own clothes - are parts of his own real or imaginary history. Cavellini is symbolic of all the Italian artists who introduced European culture to Hungary. (The strong Italian influence on Hungarian art is common knowledge.)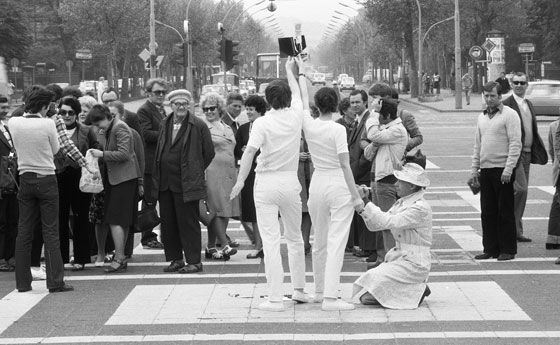 photo: György Hegedűs