Günther Ruch 1942-2013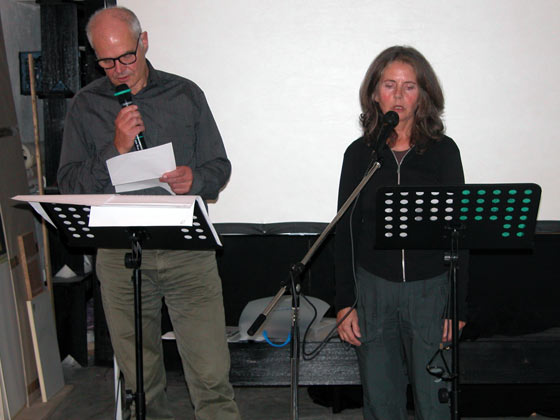 Colette & Günther Ruch, Artpool P60, 2006
(
video
)
"COLLABORATIVE PROJECTS - LIVE DOCUMENTS"
"KOLLABORÁCIÓS PROJEKTEK - ÉLŐ BEMUTATÓ"
Günther Ruch - artistamps / művészbélyegek
OLYMPIC GAMES 1984
|
stamps 1985-86
|
Helveti-co-post 1985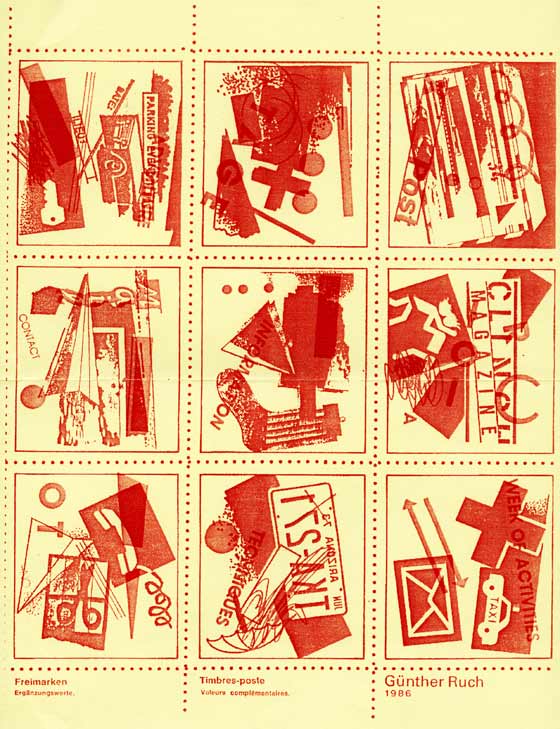 CLINCH 1986
STAMPSHEET 1989
|
PERFORATION-STAMPS 1998
"breakdown" / projet de c. & g. ruch / 2002
works by Günther Ruch
"communication" 1980
"parallel realities / parallel valóságok" 2002
"The way to Artpool" 2006 (video)
Galántai 70, 2011
Günther Ruch (1942, Bernburg, Germany) – network artist, lingua-artist, publisher. After studies in Stuttgart (1959-62) and in Basel (1963-66) where he majored in Graphic Design, he has worked in the area of fine arts.
He is the founder and head (jointly with C. Ruch) of the "Atelier R" gallery, that focuses on the alternative trends in the contemporary art, he is also the organiser of the "Out Press" publishing house (since 1973).
He was the editor of the "Clinch" magazine (1982-88), one of the key editions of the Internatonal Network Culture of the 1980s, that brought together about 400 participants from 35 countries.
Ruch is the author and initiator of a great number of artistic and exhibitional projects, including the following ones:
Idea & Communication
(Commonpress #36, 1979-80),
MA-Congress 86
(1986-87),
Mail Art / PTT-Museum
(1994),
Direct
(Galerie Forde, 1995),
Sound & Mailbox
(1998) and others.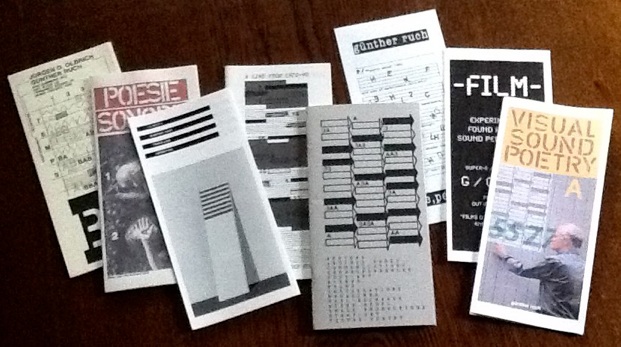 He has published some materials on the contemporary network culture, such as:
MA-Congress 86
(1987),
Clinch - 25000 stamps & stickers
(1992),
Schenkung – 100 Künstlerbriefmarkenbogen
(PTT-Museum & Out Press, 1992),
Schweizer MA Szene 1970-80
(1993),
Fragmente – visuelle & tonale experimente
(2000).
He conducted around twenty solo exhibitions in Switzerland, Germany, Italy, Belgium, USA and Japan.
He presented his sound poetry programs and performances at various international exhibitions and festivals both in Switzerland and abroad, including such as:
Flux-concert
(Geneva-Lausanne, 1977),
Audio-Art
(Lucerne, 1978),
Dada-recital
(Geneva, 1979),
Audio
(Stockholm, 1983),
Phone-Call
(Peney, 1985),
Administration-screams
(Hasselt, 1989),
AB Sound
(Bern, 1994) and others. Since 1975 till 1990 he took part in more than 300 group exhibitions, acted as a member of "Ecart" and "The Nomads" perform-groups.
He is very active in the area of video art, having created numerous video shows at various European institutions. Since the 1970s he has been deeply involved in the area of stamp art, participating in international exhibitions all over the world. Ruch's creative activities have been commented on in a great number of articles in international magazines and catalogues, his innovative practice in the area of the contemporary art is the subject for consideration in numerous anthologies and theoretical editions in various countries. Since 1970 he has been living and working in Geneva (Switzerland).