ROBERT WATTS (1923-1988)

Robert Watts was one of the early innovators of intermedia art, contributing to the development of the "event" form and a founding member of the Fluxus collective. From the late 1950's into the 1960's he also had a substantial role in the Neo-Dada and Pop Art movements. His works were exhibited in major exhibitions throughout his career and are included in numerous important museum and private collections internationally.

Watts has been called "cryptic", a maverick artist and "the invisible man of Fluxus and Pop." His original training was in mechanical engineering, and he subsequently attended the Art Students League and Columbia University in New York City, receiving his Masters Degree in Art History in 1951. The following year he began teaching at Rutgers University in New Brunswick, New Jersey where he became Professor of Art until 1984. During those years he was the recipient of many awards and grants, from the Carnegie Corporation of New York, Rutgers Research Fellowship Grants, the National Endowment for the Arts and New York State Council of the Arts.

During the early 1960s his kinetic sculptures and unusual objects were highly visible in notable galleries and museums. He started utilizing electro-mechanical circuitry in his works in the late 1950s and began a lifelong pursuit of emerging media and technologies, experimenting with 16mm and 8mm film, photography, video and audio tape. By 1963 he had become a pioneering member of Fluxus, collaborating with the loose group of intermedia artists in producing multiples such as Fluxus editions, newspapers and stamps, events and performances as well as objects in mixed media. From the early sixties, his activities were related to the beginnings of the Pop Art movement, with exhibitions of his works at Leo Castelli Gallery, Dwan Gallery and Bianchini Gallery among others, and in many international venues.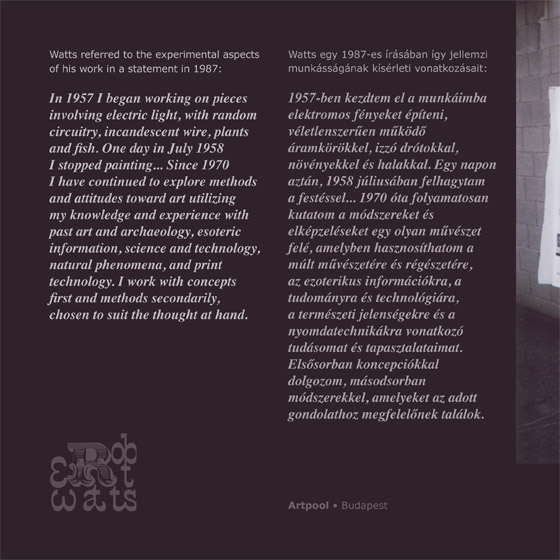 front / back | invitation
Robert Watts. Flux Med, catalogue of the show at Artpool P60 with illustrations and introduction by Francesco Conz and essays written for the exhibition by Geoffrey Hendricks and Larry Miller, with biography and bibliography (English-Hungarian).
Published by Artpool, Budapest, 2008, 48 p., 20x20 cm