EVERYBODY WITH ANYBODY
rubber stamp competition, event and exhibition,
special space arrangement,
APS No.11 Young Artists' Club, Budapest, 26 February, 1982.
call invitation poster catalogue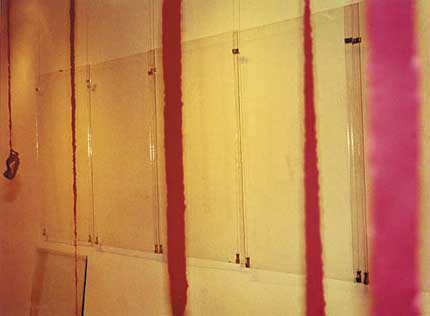 The conception of the exhibition has been the following: The exhibition space is a constructed one. Red ribbons divide it into an inner action-room and an outer exhibition-room. In the action-room above a big table in the centre, fixed to slipping red strings, rubber stamps that had been sent to the exhibition are hanging. Several small bells are fixed to the strings. The outer exhibition-room is empty, in a corner András Szirtes' non-stop stamp film is running, made from the famous stamping scene of Jiři Menzel's "Closely Watched Trains", when the train dispatcher imprints the buttocks the telegraphist girl with the office's rubber stamps. (youtube)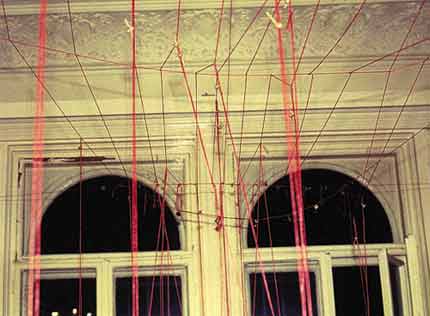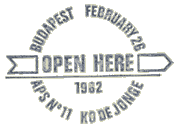 The opening of the exhibition means at the same time the realization of the material that would be exhibited. Everybody can use everybody's stamp and anybody can stamp together with anybody. Every composition to be realized is a common work. The opening of the exhibition will end when the walls of the space will be covered with the works. The closing episode of the opening: G. Galántai – organizer of the exhibition – stamps along the realized pieces with the "Open Here" stamp of Ko de Jonge made especially for this occasion. After that the action-room is being pulled down.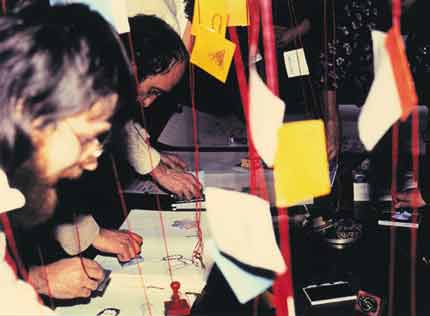 Photos by: György Galántai, István Jávor, Béla Nagy, Attila Pácser, János Vető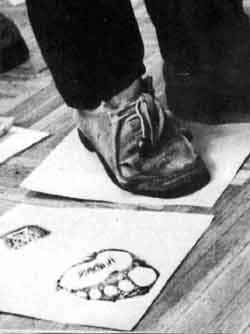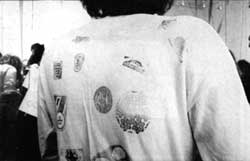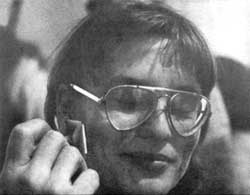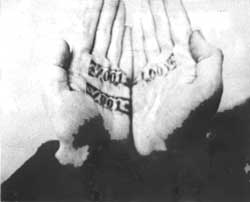 Several impressions
"Everybody with anybody" was the motto to that kind of stamp exhibition but it was not interpreted like anything beyond a frantic stamping by both sexes in high spirits after all.

Primary forms of stamping such as finger- and lip print, footmark and wheel-track were present. The answer to the question of "shat to stamp on?" confined itself to reasonable limits: respect was had for furniture by stamping on T-shirts, bodies and paper in particular. A lonely hero used sealing-wax but no more figurable materials were adopted. "What to stamp with?" was answered by "rubber-stamp" above all, rubber-stamping even those mentioned forms of primary stamping. A pneumatic tire as well as a plastic toy animal passed for exceptions as "found stampers". They proved to be sources of broad humour just like objet trouvé in general when put into unusual context (such as Academy of Arts Progress Sports Club). A childhood-stamp carpentered in rubber reading "Peeping Patrol" stood for the example of an object "found junk".

An erotic association of stamping appeared in the lipprint as well as in body stamping, and a very aggressive motive put itself forward in an absurd stamp incorporating a real dagger standing out. This latter object popped up as stamped image as well. Someone wanted to stamp with an open pocket-knife but on paper alone. "Stamp in the stamp" came up with a "My Stamp" form, too.

As for content, a category superseding signature, call-card, letterhead or trade mark was formed. Stamps referring to the existence and personality of their maker such as "Self Control", "I am too intelligent for art" or "I am too dull for art" formed just another group close to those works longing for correspondence such as "I like your works" or "Listen to me". Postal references were common among stamps expressing advice or desire such as "Use the stamps in your work" or "Let there be light". Several dicta in Latin brightened an English-speaking medium with their wit as in "Art iacta est" and "Art non olet". As usual, the more comprehensive a work was the greater effect it could take. The Inconnu took it with inventiveness associated with language and graphics as well as politics and bureaucracy.

Otherwise references to bureaucrats or bureaucracy, evident as they are, seemed to come up only by mere chance. Maybe those stamps of enlarged screen-plates or stripes with an effect of concealing something else were to be classed here. I missed an AUTHORIZED stamp is particular.
Also ran daters and follow dies, toy press and stamp film, stamps with constructivist figures and with an eye of the god Horus. The event was timely and quite well organized after all. Something to be repeated in one or two years for understanding a process. It was a very first exhibition of its kind indeed, completing a success even in having some of the stamps vanished – but not without leaving a trace behind.
---
A stamp means leaving a mark.

A stamp means authentication.

(comp. A stamped jacket and a stamped piece of paper)

All marks are authentic?

A mark of any simple gesture might authenticate a picture.What about a certificate?

A mark of any simple gesture might be a stamp on a picture as well as on your fate?

Artists find any stamped piece of cloth more authentic than all the stamped certificates together.

The stamp event in the Young Artists' Club has been about authenticity. The spontaneity of a public encouraged to leave marks has combined the naturality of a stamped piece of cloth with the artificiality of stamped papers in an obliviousness occasionally playful, deliberate, infantile, thoughtless, precise, constructive or destructive in the event.

A counterstamping of our outstamped weekdays has been documented by stamped papers and walls, windowpanes and T-shirts, faces and bodies.
---
György Galántai phoning Miklós Erdély

(detail)
G: What about the stamp event?

E: The table was too low. Had to be bent over too much. Just like women dollying laundry. It was no table for stamping, even if in an exhibition. It made stamping get its bureaucratic character lost.

G: Yes, it was mentioned by Albert Kovács as well but without finding out the cause.

E: People rarely bend over anything like that.

G: Do you thing that is why they were stamping so eagerly?

E: It was a little bit like children's room. A place you play so near the ground. There was much more infantilism than bureaucracy in all that.

G: It means the low table helped participants feel released.

E: I am not sure of its being released. Stamping is one of the simplest actions to leave a lasting and relatively faultless mark on paper. It makes people feel active and creative at a low cost. Similar to the gesture of photography. People like to take pictures just because of liking to leave a mark by pushing a single button. And when the mark is prefabricated as in the case of stamping, it promises that mark to be perfect.

G: That motive of stamping is to be found in the bureaucrat as well.

E: Bureaucratic stamping is quite another thing. It has nothing to do with creativity, not even playing. It reminds me much rather of the shameless simplicity expressed in a gun shot: something to have anything radically done with. Something extremely simple to solve extremely difficult problems, such as taking somebody's life. Pulling the trigger and that's all there is to it. That is bureaucracy. As for children's toy guns, they combine easy creation - playing - with a quick like a shot disposal. Playing means something like creation at a low cost, i. e. the illusion and experience of it. Bureaucratic stamping combines motives of infantilism and aggression.

G: And what about serial stamping when stamps get to a paper by the dozen?

E: Stamping involves a kind of creative act at any rate. And creation is pleasure. Even a bureaucrat might like to make a good go of it. Bureaucrats get a kind of visual education by stamping after all.

G: I didn't mean the stamping to be point in the event but people feeling relaxed as for a therapy.

E: Well, any kind of game with an illusion of creativeness like that, results in anarchy in the long run, giving birth to disgust and uneasiness.

G: Yes, but at last those papers full of stamps have been taken home as relics and personal works of art.

E: It may cure disgust, no doubt, to have anything that will last, more than just dirt...
---
[STAMP + RUBBER STAMP] [web-museum] [Artpool] [search]