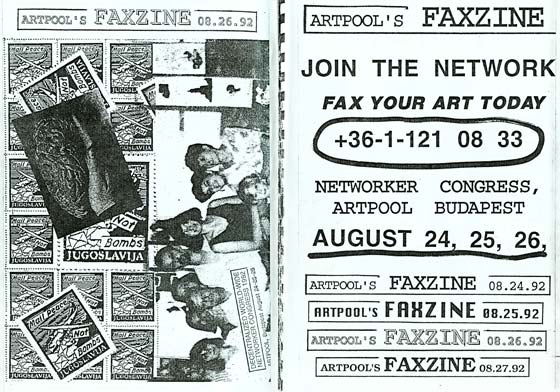 → 1 → 2 → 3 → 4 → 5 → 6 → 7 → 8 → 9 → 10 → 11 → 12 → video
"BUDAPEST SESSION OF
THE DECENTRALIZED WORLD WIDE NETWORKER CONGRESS"
ARTPOOL, 24-26 AUGUST 1992
Electro-graphic visual communication on fax with the participation of 86 artists. Exhibition of the sent and received works and results of the copy-art workshop. The first fax-action and exhibition by Artpool. From the session a news-letter called "Artpool Faxzine" was faxed daily to all around the world. The "Networker Post" stamp-sheet got ready and became the starting-point of another project. A catalogue has been published of the event.
"DECENTRALIZÁLT HÁLÓZATI VILÁGKONGRESSZUS
BUDAPESTI ÜLÉSSZAK", ARTPOOL, 1992. AUGUSZTUS 24 - 26.
fax és elektrografikai műhelymunkák. Az Artpool első faxakciója és kiállítása.
Az "ülésszak"ról az "Artpool's Faxzine" feliratú hírlevelet faxolták világgá a résztvevők, naponta változó dátummal. Elkészült a Networker Post bélyeglap, amely egy újabb projektnek lett a kiindulópontja. Az eseményt katalógus dokumentálja.
SOUND-WORKS BY THE NETWORK (1980-1992) HÁLÓZATI HANGMUNKÁK
with Jürgen O. Olbrich, Diana and Buster Cleveland, E.F.Higgins III., Monty Cantsin, Wulle Konsumkunst, Pete Horobin, Peter Below etc.