Artpool events - 8 September 1993 - Artpool Archive


magyar
4-10 September 1993

ART PROJECTS OF TELECOMMUNICATION IN THE 80s Documents (portfolio, photo, CD and photo documents) of several communication projects (1980—1992). Exhibition curated by Robert Adrian X., Vienna. [more]

8 September 1993 6-8 p.m. (ARTPOOL - ZERONET)

DANUBE CONNECTION

ELECTRONIC COMMUNICATION HAPPENING
for two telephone lines and a picture-phone. Live interactive event of telecommunication between the Viennese Freihaus-Kunstlabor /organized by Robert Adrian X./ and Artpool.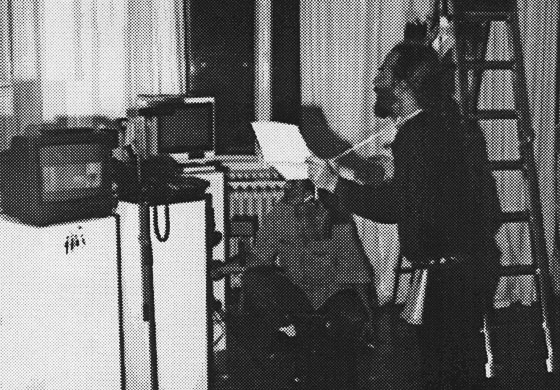 Participants: Robert Adrian X, John Duncan, Franz Xaver, Mia Zabelka from Vienna. Júlia & György Galántai, Paul Dutton, János Szirtes, Endre Szkárosi, etc. from Budapest.

Exhibition of the answers received (by mail or fax) from the world to the question "Why communicate?". [invitation]

Participants: Austria: W. Fehlinger. Belgium: L. Fierens, J. v. Geluwe, K. D. Haseler. Brasil: P. Bruscky. Canada: A. Banana, G.I.N.A. Denmark: K. Justesen, V. Mollegard. France:: M. Corfou, D. Daligand, J. Hubaut, J. N. Laszlo. Germany: G. Deisler, M. Fox, J. Kierspel, A. & H. Mittendorf, J. O. Olbrich. Great Britain: A.1. Waste Paper Co.Coracle Docking, D. Dellafiora, M. Lumb, R. du Maurier-Lebek, M. J. Mawtus, M. Palsson.
 Greece: Mitropulos. Holland: R. Bouws. Italy: G. Strada. Japan: K. Koivisto, Mayumi + Shozo, M. Shiomi, T. Tsubouchi. Russia: R. Nikonova. Spain: B. Ferrando. Switzerland: G. L. Minkoff + M. Olesen. Uruguay: C. Padin. USA: S. Crittenden, D. Det Hompson, Eat Art/M. Diar, J. Evans, FaGaGaGa, J. S. Fawcett, J. Held Jr., T. J. Hoare, LecClair, J. MacLow + A. Tardos, W. Marlowe, Mercer Gallery, Pag-hat the Rat-girl, The Ethernal's Tomb, L. S. Thomas, Worldwide DADA Service. Yugoslavia: S. Gogolyak, D. Kamperelic.

The event commemorated the 1983 Budapest-Vienna-Berlin Concert by Telephone, and was a part of the Austrian-Hungarian gallery project called "Game without Borders".

Artpool events - 8 September 1993 - Artpool Archive

[1992] [events from '92] [new events] [Artpool] [search] [1994]