Europe Day 2006 - new europe-flag project
The 9th of May 2006 from sunrise to sunset a new European flag made by Dutch visual artist, Maarten Vanden Eynde will be presented at several art spots all over the European union
Europe a new country with new borders?
I think Europe should present itself as a variety of countries not as a unity.
It is not a homogeneous circle of stars and it will never be one, so I put every star back on its original position, as the capital of the different countries. Like this an 'abstract' sky full of stars appears.
The borders are opening... - says the artist.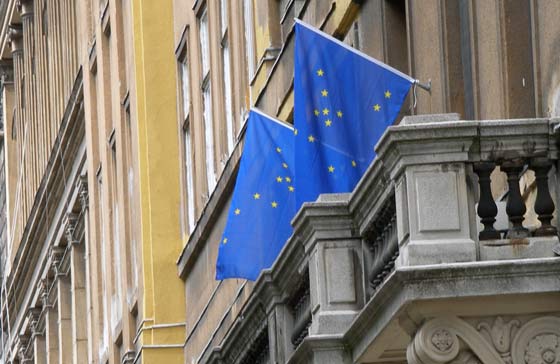 The flags will be flying in the heart of Budapest, above the entrance of the Liszt Ferenc square 10., at Artpool Art Research Center.

Other flag-related web-pages at Artpool:
Fluxus flags and documents, 1992-2000
György Galántai: Openness and Transparency, 2004


2006 | threes | doubts/doubles | telematic | artpool | search