6-9 July 1972 - "DIRECT WEEK" exhibition, events (organized by Gyula Pauer and Tamás Szentjóby). Participants: László Beke, Miklós Erdély, Gyula Gulyás, Miklós Haraszti, László Haris, Ágnes Háy, Tamás Hencze, Péter Lajtai, Péter Legéndy, József V. Molnár , Gyula Pauer, Margit Rajczi, Tamás Szentjóby, Endre Tót. [snapshots: 1, 2]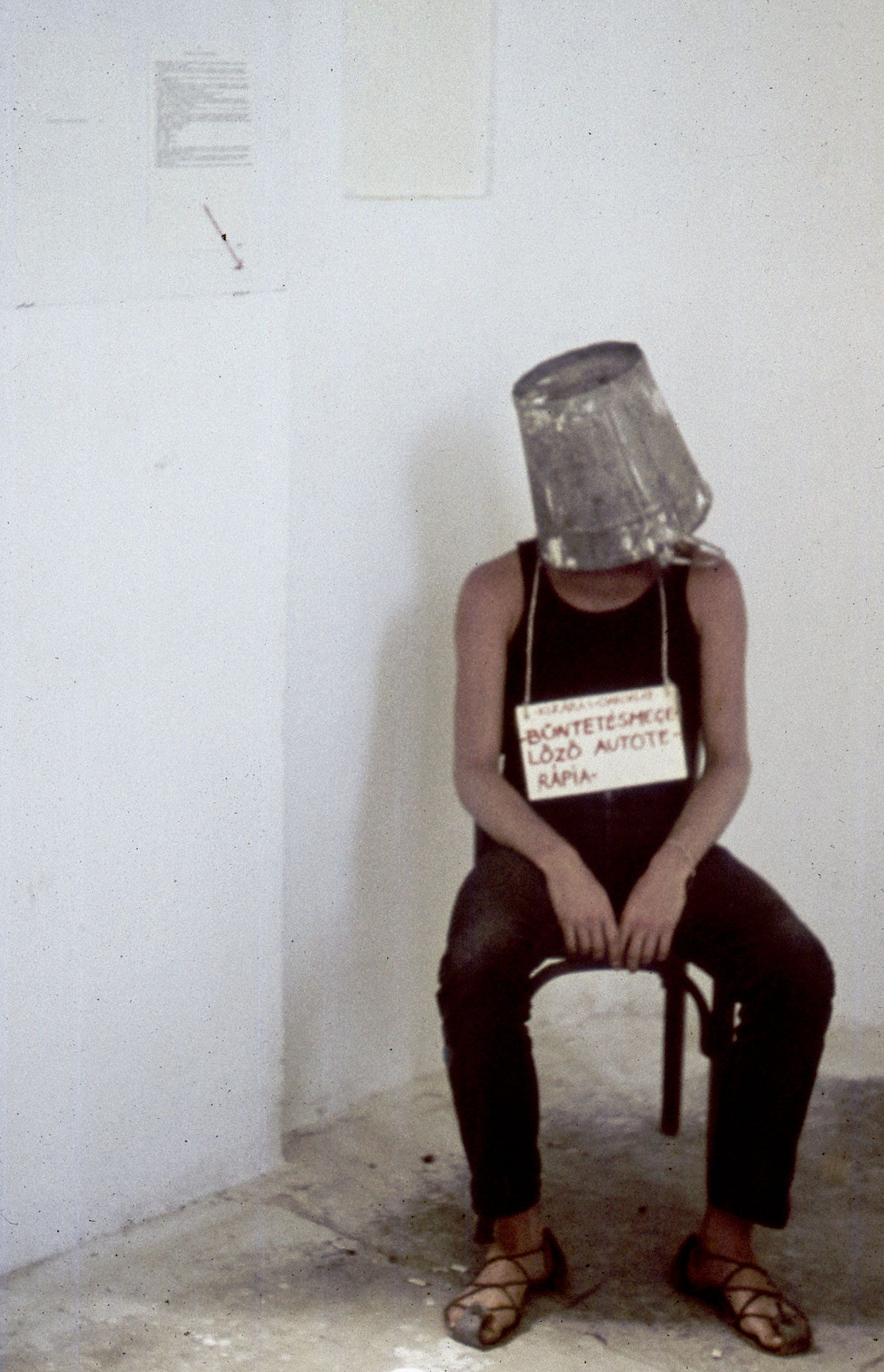 Tamás SZENTJÓBY: Exclusion exercise. Punishment-preventive Autotherapy (event)
EXCLUSION EXERCISE
PUNISHMENT-PREVENTIVE AUTOTHERAPY
I.
YOU CAN ASK ANYTHING FROM THE SELF-SENTENCED AND
II.
YOU CAN ASK THE FOLLOWING:
– ARE ALL LIFE-SCHEMES THAT EXCLUDE EVEN ONE OTHER HUMAN BEING IMMORAL?
– CAN ONE FORM A COMMUNITY WITH ANOTHER PERSON WITHOUT BEING COMPLETELY FREE ONESELF?
– IS CULTURE'S REAL PURPOSE TO MAKE ONE CONSCIOUS OF THE FACT THAT ONE'S FATE IS IDENTICAL TO HISTORY?
– IS IT THE MOST IMPORTANT THING TO DISCOVER AND REALISE WHAT IS NEEDED IN LIFE?
– THOSE WHO BEAR THE UNBEARABLE, DO THEY KNOW NOTHING ABOUT LIFE? – KNOW NOTHING ABOUT THAT INTERDEPENDENCE THAT IS CONTAINED IN LIFE: – CAN HE BEAR HIMSELF WITHOUT US, IS EVERYTHING HOPELESS WITHOUT US?
– CAN THE BLOCKADE OF THE PRESENT BE BROKEN ONLY BY A NEW TYPE OF BEHAVIOUR?
– IS THE REALISATION OF THE FUTURE IN THE PRESENT AN ACCELERATION OF OUR LIVES?
– BECAUSE HISTORICAL TIME APPLIES TO THE TOTALITY AND NOT TO THE INDIVIDUAL, WOULD YOU TRY TO LIVE THE FACTS OF THE PRESENT AND YOUR FUTURE DESOLATION SIMULTANEOUSLY?
– IS THIS ALL TO MANIFEST DIFFERENCE AND THEREFORE THERE TO ACTIVATE A POTENTIALLY DIFFERENT?
– CAN THE CHANGEABLE ALSO BE UNFINISHED? IS THE UNFINISHED TO BE CHANGED? IS UNCHANGE: SUFFERING? IS INCOMPLETENESS: SUFFERING?
– DO YOU HOPE THAT YOU CAN MAKE US CONSCIOUS OF INTERDEPENDENCE BY DEMONSTRATING THAT WE ARE ALL AT EACH OTHER'S MERCY?
– IS THERE PUNISHMENT IN YOUR ACTION?
– IS THERE ACTION IN YOUR PUNISHMENT?
– IS ACTION A SIN? IS PUNISHMENT A SIN?
– IS SIN ACTION?
– IS ACTION PUNISHMENT?
– WHAT IS A SIN?
– IS SIN THAT ACTION THAT CAUSES SUFFERING?
– IS SIN THAT ACTION THAT CAUSES NO CHANGE?
– IS THERE ANYTHING AT ALL THAT YOU CAN CALL AN ACTION THAT WOULD NOT PRODUCE A CHANGE, AND WHOSE EXISTENCE IS NOT AIMED AT REDUCING SUFFERING?
– ARE YOU PUNISHING YOURSELF BECAUSE BY SELF-PUNISHMENT TAKING THE PUNISHMENT OF SELF-PUNISHMENT YOU RELEASE THE PUNISHER FROM THE PUNISHMENT THAT IS NOT ACTION: THAT IS SIN?
– DO YOU FEEL PARTICULARLY EXPOSED BECAUSE YOU CANNOT SEE TO WHOM YOU ARE TALKING?
8 July 1972 - In the course of the program "DIRECT WEEK" performances, actions and events are held by the participants of the "Avant-garde Festival" banned in Budapest.