Browse the pdf version of the book here
or download the pdf from here (25MB)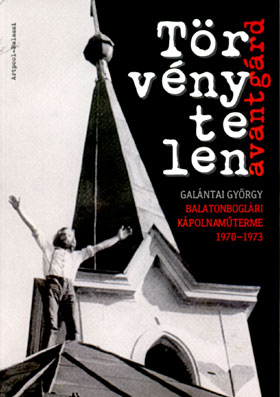 Törvénytelen
avantgárd
Galántai György
balatonboglári
kápolnaműterme
1970–1973
Illegal Avantgarde
The Chapel Studio of György Galántai
in Balatonboglár
1970–1973
Edited by
Júlia Klaniczay and Edit Sasvári
Artpool–Balassi, 2003
György Galántai's rental of a funeral chapel at the small village of Balatonboglár 1969–1973 as a site for summer exhibitions, performances and other art activities was a central project of the Hungarian neo-avant-garde. The Chapel Studio in Balatonboglár between 1970 and 1973 functioned as the island of freedom in the midst of the police state. The conceptual art works, happenings, films, theater shows, visual poetry and sound poetry created or brought there reflected awareness of the wider international art language and art scene of the era and were, at the same time, politicized through and through in a specific way that differed from the political contents and overtones of the Western art of the same period.
By 1972 the picturesque cemetery hill and the chapel-turned-into-studio had turned into a permanent art festival of a uniquely liberated and creative atmosphere where a number of site-specific works were created and genres that had been unknown in Hungary before appeared. The workshop also inspired international projects.
The Balatonboglár Chapel Studio was a unique experience that reflected the struggle of the artists for the free artistic expression in the Kádár era as well as the manipulations of the officialdom to curb and ultimately suppress these activities. The documents of the involvement of ministerial departments as well as the secret service in the scrutiny and the final ban of the workshop reveal the anatomy of bureaucratized state-socialism and its cultural institutions in action (Éva Forgács).
ISBN 963 506 417 9 – soft cover, A4, 460 pages, 464 color and b&w illustrations, Hungarian
---
Reviews
István Hajdu: Illegal Avant-garde: The Balatonboglár Chapel Studio of György Galántai 1970–1973.
Ágnes Ivacs: Törvénytelen avantgárd … [Illegal avantgarde … ] - book review
Browse the pdf version of the book here
or download the pdf from here (25MB)
---