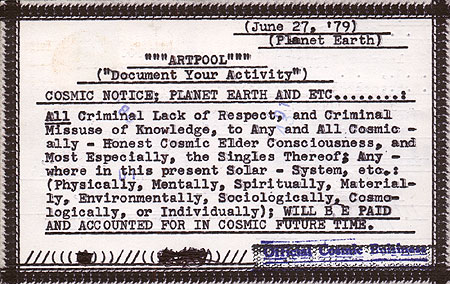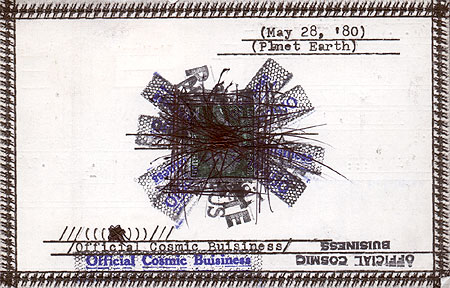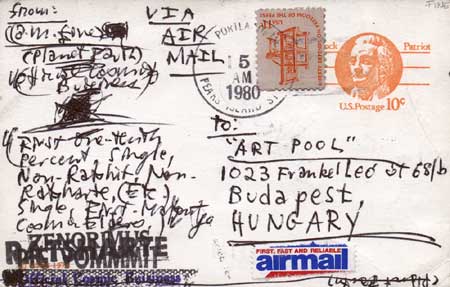 Postcards by A. M. Fine (Planet Earth)
The Albert M. Fine Collection (MsC 518)
A. M. Fine was a Julliard trained composer, artist, and poet, whose compositions ranged from instrumental works to incidental music to off-Broadway theatre. Although perhaps most widely known within contemporary discourse for his Fluxus works and as a leading exponent of the Mail-art movement (in collaboration with the late Ray Johnson), Fine's cross-disciplinary activities also overlapped with the creative productions of his friends and colleagues Phillip Glass, John Cage, George Maciunas, and Allen Ginsberg. Alternative Traditions in the Contemporary Arts was chosen as the official repository for the artist's works and papers by the A. M. Fine estate.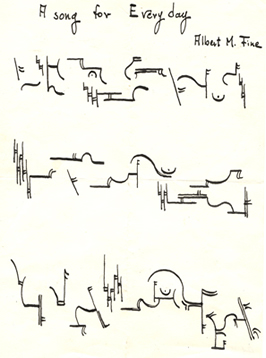 Selected Fluxus Event Scores
Albert M. Fine, "Fluxus Piece for G.M."
The Fluxus Performance Workbook
Albert M. Fine fluxus partitúrák

1993 | Artpool | Fluxus@Artpool | kereső / search | Fluxus@Artpool | Artpool | 1993