Artpool events - 19 March – 14 May 1993 - Artpool Archive


magyar
ARTPOOL FLUX [invitation]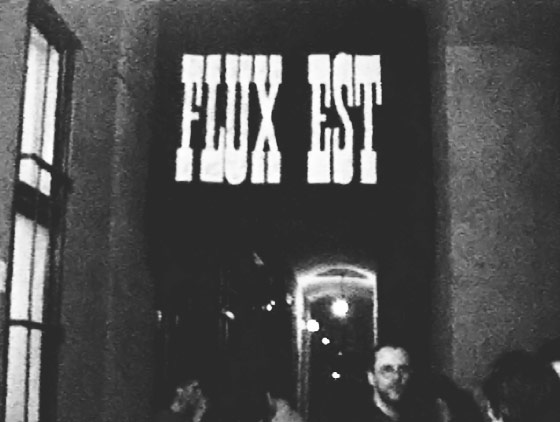 George MACIUNAS' first exhibition in Hungary.
Diagrams, ccV TRE, Fluxus writing paper and envelope, Fluxpost stamps, grotesque mask, Fluxus wedding (documents)
Endre TÓT, "ZérO retrospektiv", (zero works 1971-1984) , for the first time in Hungary.
FLUXUS OBJECTS, Ben Vautier: Fluxus Holes – collected by Ben Vautier, B. V. 1964/81 / Joseph Beuys: Woodden Postcard, ed. Staeck, 1977/ "Fluxtellus", (TELLUS is the 24th issue of the sound cassette magazine) /Robert Filliou and Joachim Pfeufer: Commemorative Plaquette to the 1976 Budapest exhibition /George Maciunas: Fluxus (card) pack /Alice Hutchins: Jewelleryset – Fluxbox, tag graphics by G. Maciunas / George Brecht: "Water Yam" /Geoffrey Hendricks. 7 Found Postcards (salted) Salinz, Hallein – Austria, 6 August 1992/ Ben Vautier. The Jungle of Art (game) 1988 / Yoko Ono: Smilebox `71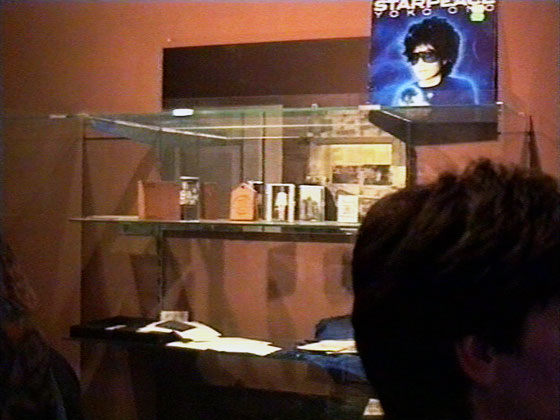 POSTCARDS OF FLUXUS ARTISTS, postcard works by artists such as: Albrecht/d, Ben Vautier, Joseph Beuys, George Brecht, Giuseppe Chiari, Robert Filliou, A.M.Fine, Michael Gibbs, Geoffrey Hendricks, Dick Higgins, Alice Hutchins, Alison Knowles, George Maciunas, Peter Moore, Nam June Paik, Carole Schneemann, Andy Warhol.

"SLIDE BANK", fluxus works by Ay-O, George Brecht, John Chick, Christo, Geoffrey Hendricks, Arthur Koepcke, Takehisa Kosugi, Shigeko Kubota, Alison Knowles, George Maciunas, Larry Miller, Claes Oldenburg, Ben Patterson, Willem de Ridder, James Riddle, Takako Saito, Mieko (Chieko) Shiomi, Daniel Spoerri, Ben Vautier, Robert Watts, La Monte Young.

"VIDEO PROGRAMS" Dóra Maurer – László Beke: Nézetek / Point of views (Béla Balázs Studio, 1986)- art historians and critics are talking about the avant-garde art in the 60s and the 70s.

"FLUXUS MUSIC" Joseph Beuys - Nam June Paik: Piano Duet, in memoriam George Maciunas [sound]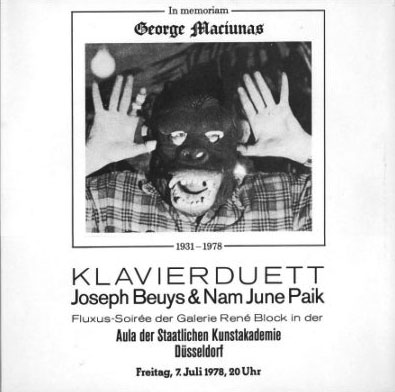 FluxTellus: /1/ Tomas Schmit, George Brecht & James Tenney with George Maciunas, Emmett Williams, Joe Jones, Jackson Mac Low, La Monte Young, Philip Corner, Dick Higgins / 2/ Tomas Schmit, George Maciunas, Yasunao Tone, Alison Knowles, Takehisa Kosugi, Emmett Williams, Larry Miller, Robert Watts and Larry Miller. [sound]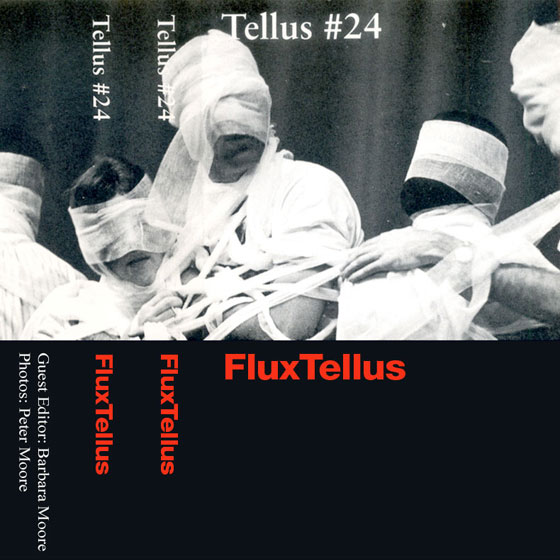 "ELECTRIC MESSAGE DISPLAY" texts by George Maciunas.

Artpool events - 19 March – 14 May 1993 - Artpool Archive

[1992] [events from '92] [new events] [Artpool] [search] [1994]