ARTPOOL documents on the WALL
HOMAGE TO VERA MUHINA
performance by György Galántai with Julia Klaniczay and G. A Cavellini
Hősök tere / Heroes square, Budapest 24 May 1980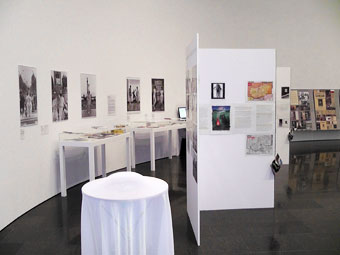 Scenes from the life of the "statue vivante"
in the Collection of Stone Relics of the Savaria Museum in Szombathely
8 October 1981
"Confrontation" action: A stroll through The Art of the ´50s exhibition in Székesfehérvár
25 October 1981
ARTPOOL documents on the panels
Panels 1-6.
HUNGARY CAN BE YOURS INTERNATIONAL HUNGARY
HUNGARY CAN BE YOURS
INTERNATIONAL HUNGARY
alternative country image reconstruction from 1984
the original exhibition organized by György Galántai (Artpool) was held at the Young Artists' Club, Budapest in 1984
the reconstruction is based on the secret police documents discovered in 1998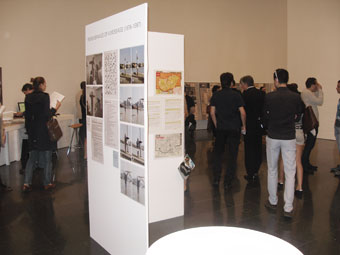 Panels 7-9.
CHAPEL STUDIO OF GYÖRGY GALÁNTAI, 1970–1973
Photodocuments of the events held in the Chapel Studio in Balatonboglár
(some examples from
1971
,
1972
and
1973
)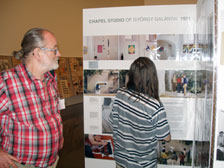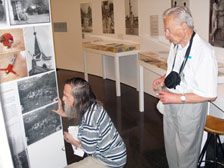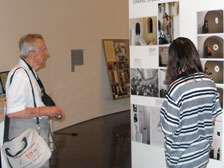 György Galántai and Jiří Valoch - Valoch's 90 years old father is taking photos
of the Chapel Studio documents relating to his son.
Panels 10-11.
BUDA RAY UNIVERSITY
ARTPOOL'S RAY JOHNSON SPACE 1982–1987
a fictive institution
/
correspondence art project by György Galántai, Artpool 1982–1987
Copies of correspondence works by Ray Johnson and other networkers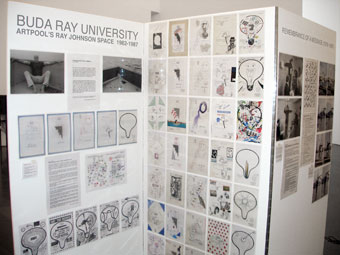 Panel 12.
REMEMBRANCE OF A MESSAGE (1976–1987)
performance by György Galántai
, Budapest 1987
ARTPOOL publications in show-cases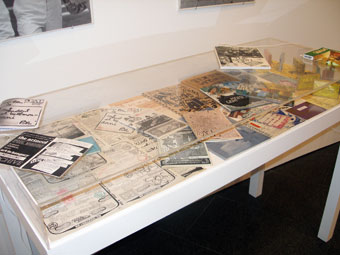 The Artpool
1979-1980 (Poolwindow no. 1.)
TEXTILE WITHOUT TEXTILE
, Artpool, 1980
Art - Umbrella - Postcard - Show
, APS no. 8, Artpool, 1981
POOLWINDOW - POOL LETTER
, Artpool, 1981-1982, 30 issues
Stamp + Rubber Stamp
, Artpool, 1982
World x Art x Post
, Artpool, 1982
Everybody with anybody
(bookwork-catalogue of the rubber stamp action), Artpool, 1982
Radio Artpool No.1-8
(casette edition), Artpool,1983-1984
AL /
Artpool Letter
(ed. by G. Galántai and J. Klaniczay), Artpool, 1983-1985, 11 issues
Commonpress 51
, Artpool, 1984

related ARTPOOL links
visit of Zdenka Badovinac and Bartomeu Mari at Artpool
(5 May 2008)
Interrupted Histories / Historiae interruptae
PARALLEL REALITIES (2002 - THE YEAR OF DOUBTS/DOUBLES IN ARTPOOL)