AL 9. (May 1984) - SUMMARY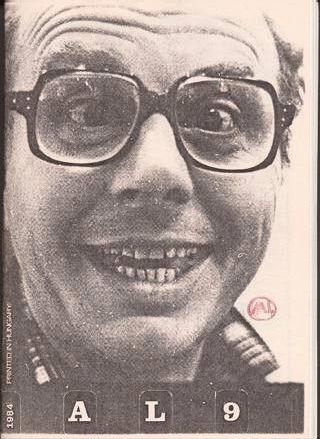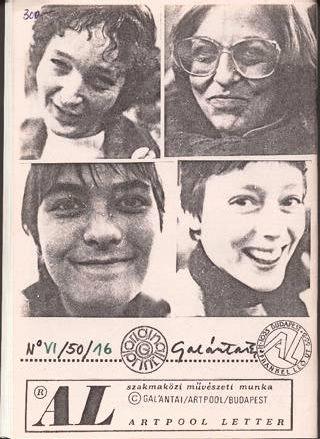 3. Dance Performance by Min Tanaka from Japan on March 21st, 1984 in the Budapest Creative Dance Studio (organised by Galerie Insam, Vienna and Artpool, Budapest).
Min Tanaka is introduced by László Beke who also describes the riveting performance that lasted some 45-60 minutes. It was all the more significant since 20th century dance is unfortunately scarcely known in Hungary much less than audio or visual arts and literature.
(photos by Attila Pácser)
8. A "Democratic Painting" by Miklós Erdély
Painting action in Kossuth Klub, Budapest, March 5th, 1984.
During the performance that lasted several hours, Erdély created a painting with the help of the audience who had to vote on each motif and colour. Erdély was personally helped by painter Ákos Birkás and art critic Lóránd Hegyi. The three of them were covered with tulle while Erdély painted his picture of three motifs. This action provoked the audience to answer several vital questions: 1. the unsolved audience-performer relationship, 2. the risk of art creations especially in painting and performance art, and 3. is a democratic work of art possible or not, etc. The text published here contains the conversation during the action and part of the debate following it.
17. Uncertain Report
Essay by Endre Miklóssy on the new building created by Bálint Nagy and László Rajk in Vance, South France. It was a studio built by the two architects with their own hands for the Károlyi Foundation.
21. Domestic Culture
Exhibition by Zoltán Lábas and Tivadar Nemesi (August, 1983)
Zoltán Bakos converses with the artists.
20, 22, 23. Photos of the exhibition
24. Performance by Joan Jonas in the Young Artists' Club, Budapest, March 24th, 1984 (Photos by Attila Pácser)
A short summary of the works and the major performances by Joan Jonas.
26. Interview with Joan Jonas by László Beke on the common features of her performances, on the significance and causes of their elements, on her piece presented in Budapest and also the video she made in Hungary produced by the Balázs Béla Studio, Budapest.
30. Comment apprécier la musique aujourd'hui? - Viewpoints in Contemporary French and American Music Theory.
The major points of the lecture by French music theory writer Daniel Charles he read in the Summer, 1982.
The essay opposes contemporary post modernism with its history in music and tries to answer the question why our judgements differ from past judgements. He also surveys the changes in the evaluations and the audience responses from classicism via modernism to the present.
36. No Go Music by Chris Bohn
Translation of his article from Marxism Today, October, 1983
(Translated by L. Lugosi Lugo)
40. "We needed an alternative channel…" Interview with Mark Perry in 1983 by Tamás Szőnyei
The interview introduces Mark Perry who started his fanzine Sniffin' Glue in 1976.
Mark Perry reveals in what circumstances the alternative music press was born and finally what made Sniffin' Glue die and what brought along the changes in the punk and new wave scene.
The interview concludes with parts from an article by Richard North from New Musical Express, December, 1983, advising readers how to start a fanzine in England today. (His suggestions might seem utopian to Hungarian readers),
46. Translation of articles from Sniffin' Glue Special Issue September 28th, 1976.
48. "Két Ulrike-Song" (Two Ulrike Songs) by László Garaczi
49. "Feltételezve de nem megengedve" (Supposing/Unlet) by László Garaczi
50, 51. Poems by Ádám Tábor:
Fekete Doboz (részletek egy versciklusb6l) - From the Black Box series
- Bibliagráfia (Bibliography)
- A Logoszbombázó dala (The Song of the Logos Bomber)
- Vacances
-Történalom (Hiss-story)
52. "Kioktatlak" (I am instructing you) - poem by Endre Kukorelly
54. Conversation of László Beke and Géza Perneczky in the Young Artists' Club, Budapest, April 24th, 1984.
Before he emigrated to Cologne in 1970, artist and art critic, Géza Perneczky had been one of the major art critics in Hungary and his sharp criticism has been missing ever since. This was his first appearance in public after 1970 in Hungary. Art critic László Beke and the numerous audience were interested in what prompted Perneczky to stop his career in Hungary, what he did as an artist in Cologne, what he thinks of contemporary Hungarian art from this distance, and also what he thinks of the contemporary international art scene.
(The photos accompanying the article were taken at the Mail Art exhibition "Smile" organised by Xertox Group in Bercsényi Klub, Budapest, 10th April 1984. Géza Perneczky also contributed one of his works reproduced here. Photos by Attila Pácser).
69. Invitation to the exhibition of Zoltán Lábas, Tivadar Nemesi, András Lengyel and János Szirtes, MÉSZ House, Budapest, 9th April, 1984.
70. Photos of the installation by Zoltán Lábas and Tivadar Nemesi (MÉSZ House, 9th April, 1984.)
71. Text by the two artists on the creation of the installation.