AL 2. (February 1983) - SUMMARY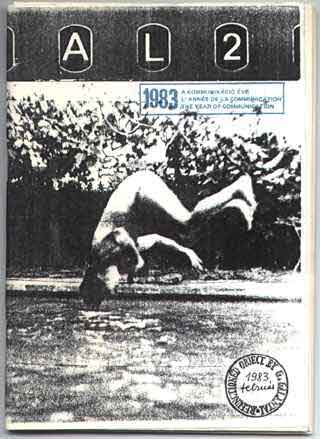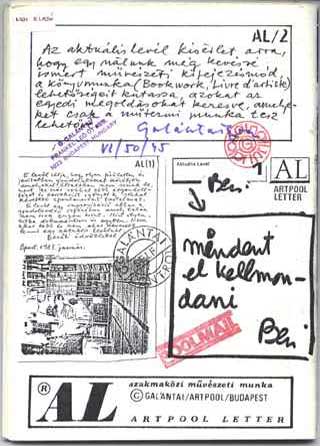 1. cover: Julien Blaine (Photo G. Galántai)
2. ARTPOOL'S ART TOUR (excerpts)
Personal account on visiting Julien Blaine, 7-8 July, 1982 in his mill in Ventabren. The article reviews Blaine's activity and his international anthology of poetry Doc(k)s, already at volume 15, the series Unfinitude, exploring the possibilities of xerox-works, and finally the Polyphonix festival of sound-poetry, Paris and the Rencontres de Poésie, part of the Festival of Avignon, both partly organised by Blaine [read the article].
8. Hungarian translation of the preface to Henri Chopin's Poésie Sonore Internationale by William Burroughs.
9. Review of Henri Chopin's book
14. István Eörsi, a writer, read some of his works at the Young Artists' Club, Budapest 19 January, 1983. His reading was called "Ürügyeim" (My Excuses) with old and new - yet unpublished - poems on three themes - socio-politics, death and love. AL presents some of them along with the introduction of Eörsi and his comments on the events in the history of Hungary in the last 30 years.
10. Miklós Béládi, historian of literature introduces an anthology of poetry "Vers(z)iók" (Vers-ions) at the Young Artists' Club, Budapest.
/Vers(z)iók, Formák és kísérletek a legújabb magyar lírában (Versions, Form and Experiment in Recent Hungarian Lyrics), Magvető, Budapest, 1982/
12. Review of the anthology of poetry and art "Feketében" (In Black) published with charity funds.
/Feketében - irodalmi és grafikai gyűjtemény a magyarországi szegények támogatására (In Black - Literary and Graphical Anthology for the Support of the Poor in Hungary), Budapest, 1982/
28. Excerpts from the catalogue introduction by Éva Forgács of the exhibition of József Jakovits (born 1909), sculptor now living in New York. (27 January - 6 March, 1983. National Gallery, Budapest)
29. Between 1945 and 1948 Jakovits was a member of the important Hungarian group of artists of the period, Európai Iskola (European School). He had his first solo exhibition in Budapest now at the age of 73. The article by "X" outlines how his life was full of ups and downs, how Hungarian cultural policy pushed Jakovits to emigrate to the US in 1965, and how again he became a proper Hungarian artist in 1983 while in previous years no article had been published on him.
35. Interview of G. Galántai with László Beke, art critic on the occasion of the exhibition of János Vető and Lóránd Méhes (Zuzu), about the Hungarian art scene, the fame of the two painters, and the new style they represent.
39. Interview of G. Galántai with János Vető about why Vető began painting after taking photos, why he uses uncommon materials,(copper sulphate and sulphur powder); on his ideational background, on the determining effect of his friends-and-masters (Tamás Szentjóby, living in Geneva since 1975, János Baksa-Soós, living in West-Germany since 1974, and Tibor Hajas, who died in 1980), on music and the pop group Trabant he plays in. Vető is 30 and his overwhelming vitality, optimism and energetic work represents a new attitude to art and at the same time explains its place in contemporary Hungarian art.
49. Illuminated Armchairs Fly across the Universe
Article by László Lugosi Lugo on the peculiar concert-performances of the pop-group Vágtázó Halottkémek (The Galloping Coroners). Their concert video tape is part of Gábor Bódy's new film, Kutya éji dala (Dog's Night Song) starring among others Attila Grandpierre, astronomer, singer and leader for Vágtázó Halottkémek.
54. Back cover: dedication by G. Galántai:
"AL tries to establish a little known art-form in Hungary - bookwork - and to explore its possibilities while looking for solutions only possible in workshop activities."