Vittore Baroni: Brain Cell
The neural collages of Ryosuke Cohen
in: Interazioni Postali. Comunicazioni impreviste tra snail-mail ed e-mail. Unusual Correspondences. Unexpected Communications Between Snail-Mail and E-Mail, Comune di Udine, Assessorato alle Politiche Giovanili - Agenzia Giovani, Udine, 1998, pp. 73–74.
related documents:
Ryosuke Cohen: Brain Cell (1985)
Ryosuke Cohen: Mail Art – Brain Cell – fractal (1997)
Ryosuke Cohen: Mail Art – Brain Cell – fractal (1999)
After completing regular art studies, Ryosuke Cohen became acquainted with the "eternal network" of mail art in 1980, through the Canadian artist Byron Black at the time teaching Video Art in a Japanese school. Deeply impressed by the non-formality and by the new possibilities of correspondence art, the author shortly became known as one of the most assiduous operators in the international postal art net, also organizing in his country a series of mail art exhibitions for important institutions like the Tokyo Metropolitan Museum, the Osaka Contemporary Art Center and the Kyoto City Museum. The early postal works by Cohen, small collages on paper or postcards sometimes with unusual shapes, make use of serigraphic techniques and employ as subjects the juxtaposition of traditional Japanese imagery and contemporary icons, mixed with mysterious numbers and the initial "C" of the surname, used in different colours and sizes as a recurring and characteristic mark.
The postal action for which the Japanese author is best known, keeping him continuatively occupied since June 1985, is however the Brain Cell project, a sort of collective work on sheets of paper usually measuring 30 x 42 cm. (a few rare pieces have been produced also in a smaller format), multicoloured collages made up of small images (rubber stamps, stamps, drawings, logos, stickers, photos, emblems, etc.) extrapolated from the correspondence of various mail-artists and then superimposed and arranged with a distinctive oriental delicacy in an endless mosaic, always the same and always different in each subsequent work.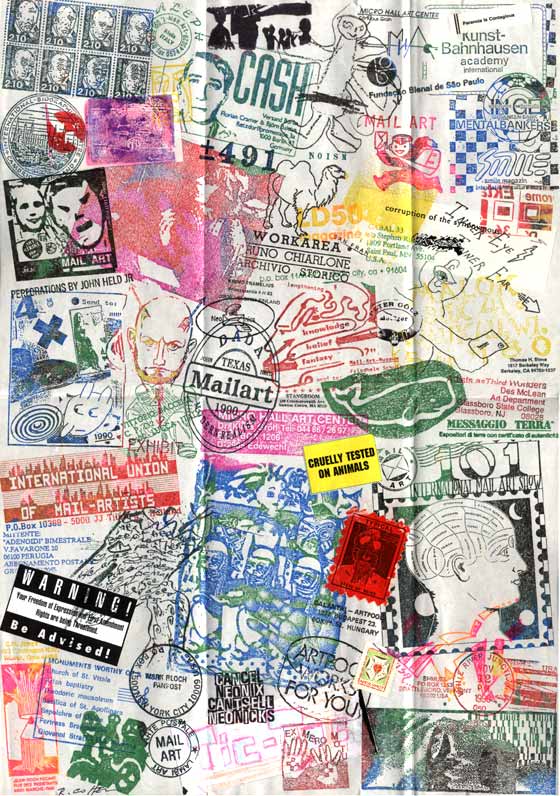 Ryosuke Cohen: Brain Cell
Cohen writes in 1985: "I called my work Brain Cell because the structure of a brain seen through the microscope, with thousands of neurons grouped together and stratified, really resembles a diagram of the mail art network". The Brain Cells are produced in editions of 150 copies with a mysterious printing technique - obtained apparently with a sort of toy-cyclostyle now out of production - that permits the simultaneous use of lively inks in various colours. On the single sheets, each one composed of graphic fragments of approximately fifty different artists, are also glued, confused with the printed images, stamps, stickers or other small works sent for this purpose in 150 copies by mail-artists. A copy of the Brain Cell thus completed, properly signed by Cohen and ready to be framed, is then obviously sent as a gift to each featured author, in an air mail envelope containing also an address-list of the participants and in some cases also short and incisive essays (written in rough but eloquent english!) on the revolutionary role played by mail art in the panorama of contemporary art.
Published at close intervals of 8 to 10 days, the Brain Cells may be considered also as a sort of minimal "artists' magazine", of which till today have been produced well over 400 issues, involving therefore thousands of networkers all over the world in what can be probably considered the single largest mail art project ever made, and surely one of the most stimulating from an aesthetical and conceptual point of view. For the way it is able to bring together and permit to interact the individual artistical vision and the collective contribution, the Brain Cell is a perfect metaphor for the functioning of the global mail art circuit, and Cohen's "collective collages" (often imitated but never surpassed by other networkers...) have been in fact often singled out as covers for magazines and catalogues or as ideal and synthetic illustrations of the variegated puzzle of mail art.
"Mail Art is the best way to show the new path for the last 20th century art which has lost the direction" R. Cohen, 3-76-1-A-613 Yagumokitacho, Moriguchi-City, Osaka 570, Giappone.
Vittore Baroni