Vittore Baroni: Decentralized World Congress, self published and circulated in the Network, 2015
manuscript, 2015
In the tradition of the Decentralized Mail Art Congress (1986), the Decentralized World-Wide Networker Congress (1992), the Incongruous Meetings (1998), the Obscure Actions (2004) and of the global campaign for Art Detox (2010), 2016 has been declared a year of open artistic archives with the launch of M.Y.A. – Move Your Archives, a collective project that takes place where two or more creative archives meet during the course of 2016.
Exactly a century ago, Marcel Duchamp sent a text cut and split in the form of a puzzle on four postcards by mail to his neighbors, the art collectors Louise and Walter Arensberg, the text puzzles were later reassembled in the work Rendez-vous du Dimanche 6 février 1916. This operation can be considered one of the earliest documented examples of "mail art", and it is significant that it was addressed to two well-known art "archivists". In the subsequent hundred years and long before the advent of computers and digital technologies, the postal system has become one of the preferred means of communication for the free and direct exchange of materials and experiences among thousands of authors in every corner of the world. Now Post Offices have begun to be shut down and the postal rates have grown exponentially, until the movement of the creative postal network has started to wane and has been replaced by contact via the Internet and "social networks", but this electronic communication is far from being the same thing.
In decades of exchanges, many cultural workers have built up large collections of "physical" materials (original works, publications, complete projects, etc.). These heritages of ideas are liable to remain submerged and ignored, continuing to gather dust on shelves or to languish in boxes locked in garages and attics. Many collections have been destroyed, others donated to institutions that are seemingly reluctant to put them to good use. Therefore in the thirtieth anniversary (1986-2016) of the Decentralized Congress, we invite you to revisit and revive your archive, making it available to others and trying new forms of encounter and collaboration with the most diverse collections, in order to promote a year of archives in motion.
Move your archive / Live your archive / Share your archive / Recycle your archive
WHAT: archives of mail art, visual poetry, copy art, small press, independent music, etc. but also creative collections of all kinds and epochs (stamps, bookplates, bootle caps, etc.).
WHEN: at any time during 2016, for any length of time, whenever two or more creative archives meet.
WHERE: in the studios nad archives of artists, poets, musicians, writers, etc. In galleries, museums and other spaces devoted to the arts, but also in atypical spaces (squares, streets, shops, parks, etc.).
WHY: to put back in circulation a hidden wealth of "concrete" materials and experiences. To not content ourselves with the great virtual emporium of culture made accessible by the Internet. To not have to wait another century before these materials are "historicized" by art critics and museums.
M.Y.A. 2016 is a global, open and independent non-profit experiment, which promotes the different use of archival materials through meetings, sharing, synergies and group workshops. Document your contribution to M.Y.A. 2016 with photos, reports and in any way you see fit, then upload the materials to the online diary in the Dododada website or send by mail to E.O.N. Archives (via C. Battisti 339, 55049 Viareggio, Italy) and you will be included in the final catalogue on paper, to be produced in 2017.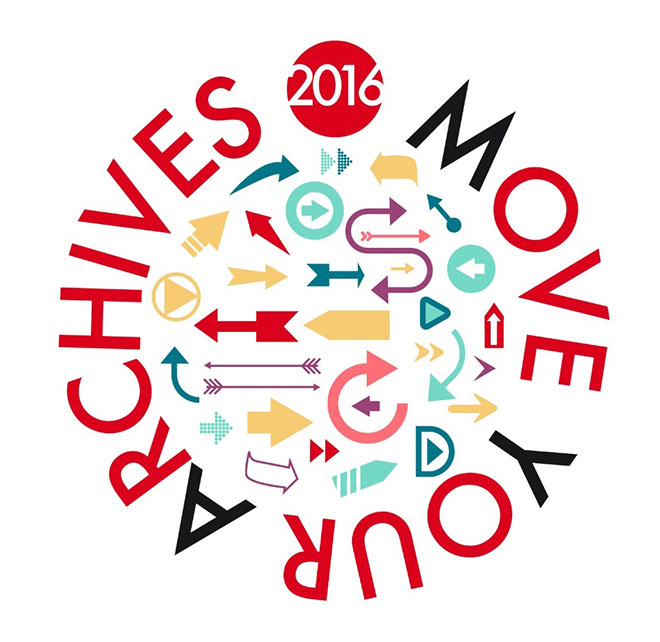 From: "Vittore Baroni"
Subject: personal invite - M.Y.A. 2016 newsletter - 30th Anniversary of the Decentralized World-Wide Congress
Date: 3rd November 2015 13:53:43 CET
M.Y.A. 2016 – Personal invite
Is there still a "mail art network" or are we just witnessing the slow decay of the traditional postal system, living on the long tail of a distant and obsolete phenomenon? Many veteran networkers are no more active or no more with us, often what is left of decades of intense exchanges, high hopes and wild dreams are a pile of cardboard boxes full of old correspondence and publications, our "archives" stored in dusty rooms and untouched for years by human hands. What will become of all these materials, of our communal projects, of the mail art legacy and history? Will future art historian or even our sons and daughters ever care to remember? Are we all gone online, lost in the eternal gossip of the "social networks", or are we still putting a stamp on our creations and working underground on big schemes to save (at least a tiny fragment of) the world?
We do not have answers to these questions, but we know that 2016 will be another "Congress Year" (a 30 years anniversary, no less), and so we propose to "move our archives", to let those old boxes become alive and meet each other, to interact with our past selves and pay tribute to lost friends, to let surreal and amazing things happen in "decentralized congresses" organized throughout 2016 whenever and wherever two or more creative archives meet. As Yoko Ono used to scream: "Open your box / open your legs / open your mind…".
We thought the time was appropriate and we soon discovered that the "open your archive" theme was on the same wavelength of what other networkers were already involved in (for example, Anna Banana's great recent retrospective exhibition in Canada, with hundreds of archival items of her Encyclopedia Bananica "traded" with the feedback from the visitors, or the group of University students creatively interacting in Maastricht with works in Rod Summer's V.E.C. archive).
We have prepared an official invite for M.Y.A. 2016 (attached, do not circulate before November 30) and we will launch the project in December 2015 with the circulation of postcards, stickers, etc. and also a periodical Newsletter that will contain short essays, archival images and new visual works on the topic of "Move Your Archives". You are receiving these advance news and message as a personal invite to contribute a short text (20-30 lines max.) and/or an image (in high resolution, 300 dpi) to be published in the first issue of the M.Y.A. 2016 newsletter. Please send your contribution before November 20, 2015 to vittorebaroni@alice.it.
We wait for your thoughts and suggestions,
all the best, till soon
Vittore Baroni (E.O.N. Archives) / Claudio Romeo (Dododada blog) / …