Jo Klaffki: International Postage Stamps
Klaffki, Jo: International Postage Stamps, in: Smile No. 3, Minden, 1985, pp. 13–25 (Ed. by Jo Klaffki)
The fact that a tiny scrap of paper, more exactly: the artist's postage stamp, claims today such a bizarre art life of its own will not aggravate future historians' daily search for work and bread. I, however do not feel like being the curator of archeological excavation acts. For I am situated here right in the middle, speaking as a liable and adhesive contemporary. Indeed I literally stick to this event which may seem puzzling to a great half- or non-informed mass. I would like to take the momentary happenings around these artists stamps into my own hands – self-reflecting the more, since I see myself obliged to document so by compiling an impressive exhibition here at Minden Art Factory.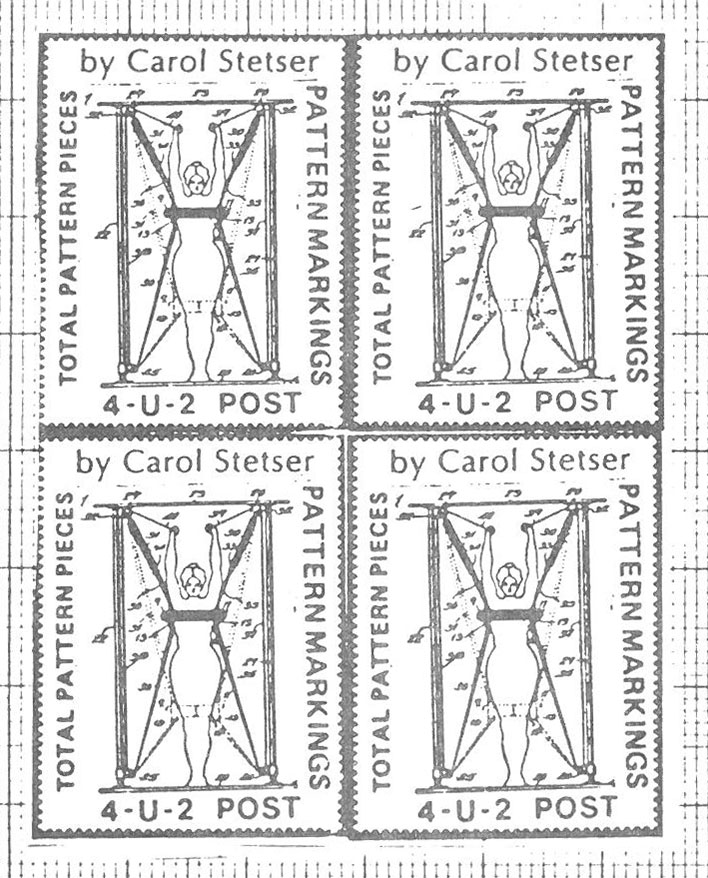 Work by Carol Stetser
When I started introducing the self-designed, perforated scraps of paper into the official postal process, there had already been dozens of artists before me pursuing this kind of creative correspondence manipulation! Getting into contact via this medium with many of these peculiar mail artists meant then later a special pleasure to me. The first mail art workshop in Bergkamen in 1982 was my personal countdown. Realizing the obvious importance of this art movement meant to me my immediate subversion into it. My so-called private mail art, which I have been bringing into the world since '78 in individualistic machinations (mostly from France), had already determined my penchant for these perforated stickers. When it became necessary later to augment one's particular correspondence within the network, this led immediately to new spontaneous results in the design. The stamp sheet developed from it was just not only a mere informative leaf of creative self-understanding, but always meant to me a piece of graphic art per se, in a limited edition, with a personal dedication, virtually a classic artefact of artisctic ability of expression.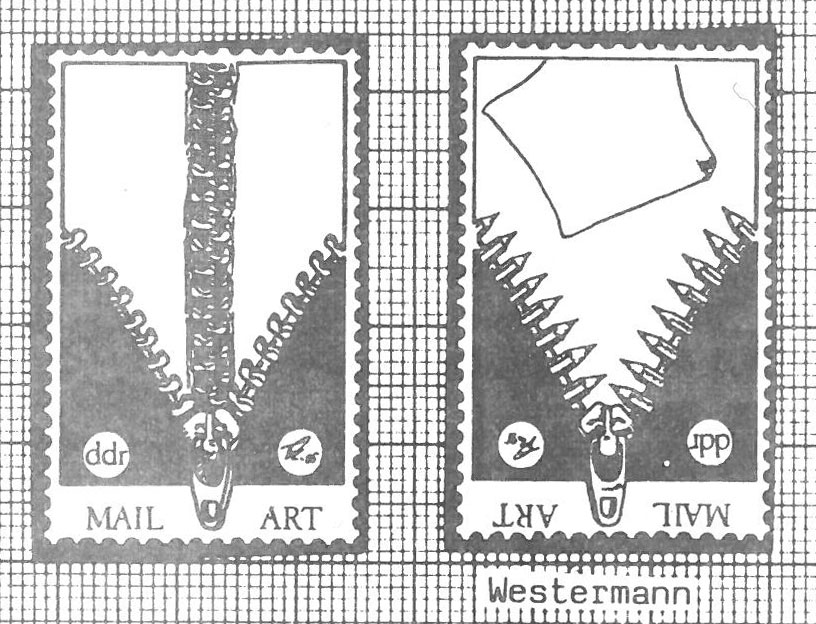 Work by Westermann
That was the status guo when in 1983 at the 1st mail art meeting in Bergkamen my first encounter with Bernd Löbach-Hinweiser brought a new decisive impulse. While Lobach was busy noting down the addresses from those mail art contributions which were equipped with artists' postage stamps he could report interesting news about American artists and Canadian ones as well who seemingly had dedicated themselves especially to the species artist's postage stamp. These notes taken then by him served later for the preparation of a voluminous International Artists' Postage Stamp Exhibition which was presented very successfully in January 1985. Independent of Löbach's activities, I kept then working towards my own Postage Stamp Expo, especially since I was building up a considerable collection by means of correspondence and exchange.
This continually growing collection with contributions from 120 artists shall now be the object of a documentary description. I do not want to abstain from eventual background views, missing that sort of thing desperately in most mail art documentations. I would like to add this as an a priori criticism in any future mail art project.
Not only that the Belgian mail artists are rather the first ones in alphabetical order, they are also industrious and witty international mail art projectors. So one may regard Charles Francois's R.A.T. stamps, in the form of sheets or glues onto letters as an addition, as a pleasant introduction to 125 further mail art contributions. The rats trio announce lasciviously, Mail art is also a fun affair, cleanly perfed and with glue on the back. Guy Bleus sent his stamp ensemble Interplanetary Post-Mars as a postcard collage. From Luc Fierens we received copied pieces from his Freese series. More artists stamps as copy art arrived from Piotr Aakoun and Paridada, the latter reminding us of his envelope project. Among Guy Schraenen's contributions we find a stamped sheet "Anne & Guy" J. van Geluwe contributed a postage stamp collage typical of him in which king and conservator appear united under a ring stamp.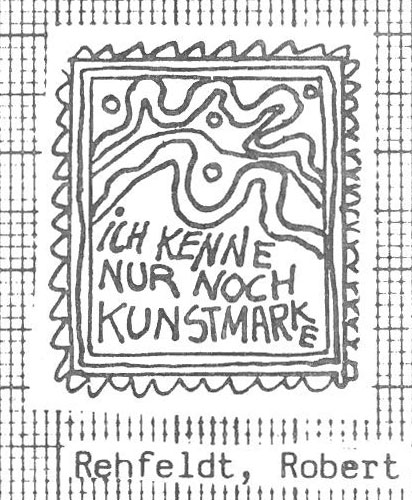 Work by Robert Rehfeldt
In alphabetical order Austria would be first. So we will continue there. The Austrians mArtin kirst and mare mer presented a common work titled double mar, a colourfully transformed official stamp stripe.
Graphically formed single pieces, as a collage on cardboard, come from the Brasilians dos Santos and Fervenza. Araujo contributed 3 very erotic collages, while Paulo Brusky sent stickers, perfed single pieces, as well as hand-drawn stamps. Nobregas single stamps on green cardboard, perfed with rubber stamp on self-portrait, certainly also symbolize Brasil's home colour. Luis' works are decorated with very appealing hand drawings (Yellow-green-black), and from Prado we got a perfed stamp arrangement in copy art, also from Rogher.
Bulgaria, again, is only represented by Guliermo Deissler. It seems to me that his tassle-donned collage stamp interprets the postage-stamp-theme very exotically.
Among the 4 Canadians George Mühleck sent an extraordinarily appealing assemblage of original Xerocolor pieces. Beside official and handmade stamps and rubber stamps it contains an ironic remake of postal reglementations.
Mister Postman Stamp ensemeble can be found in rubber stamp technique. Mark Dicey demonstrates that it is also possible to produce oval, square or trapeziform postage stamps with ric-rac scissors. Not only as a contributor, but also as a visitor of the Postage-Stamp-Expo appeared Chuck Stake. The stamp concept contributed by him became the pattern of the common stamp sheet Nr. 92 art on the move - Chuck Stake visits Minden which was introduced into the network in a big action.
Danish Poul Esting was represented with his Tors-Stamp which, strangely enough, shows copied plus live perforation.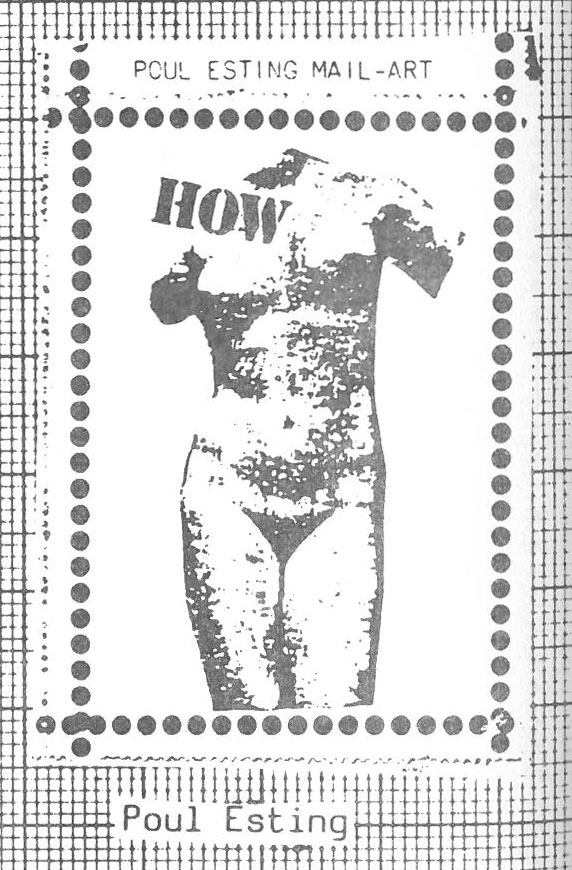 Work by Poul Esting
From the GDR, 8 artistic contributions reached us. Steffen Jacob sent several perforated stamp strips made by use of rubberstamps. Thomas Westermann's Zip Stamp drawings, as well as Karsten Mathes' torn stamps (with coloured rubber stamps) show considerable formal character. Robert Rehfeld's stamps from all over the world with their impressive content in text and image reached us on copy sheets 30 x 20 cm. Manfred Martin contributed a stamp ensemble in well-matching colours for which he used rubberstamps as tools, too. At the end of the exhibition time, two especially expressive scriptural works arrived still from Ruth Rehfeld. I had sent her for that, like to some other fellow artists as well, perfed raw sheets. From Birger Jesch and W. Schneider we got postage-stamp-designed postcards and envelopes.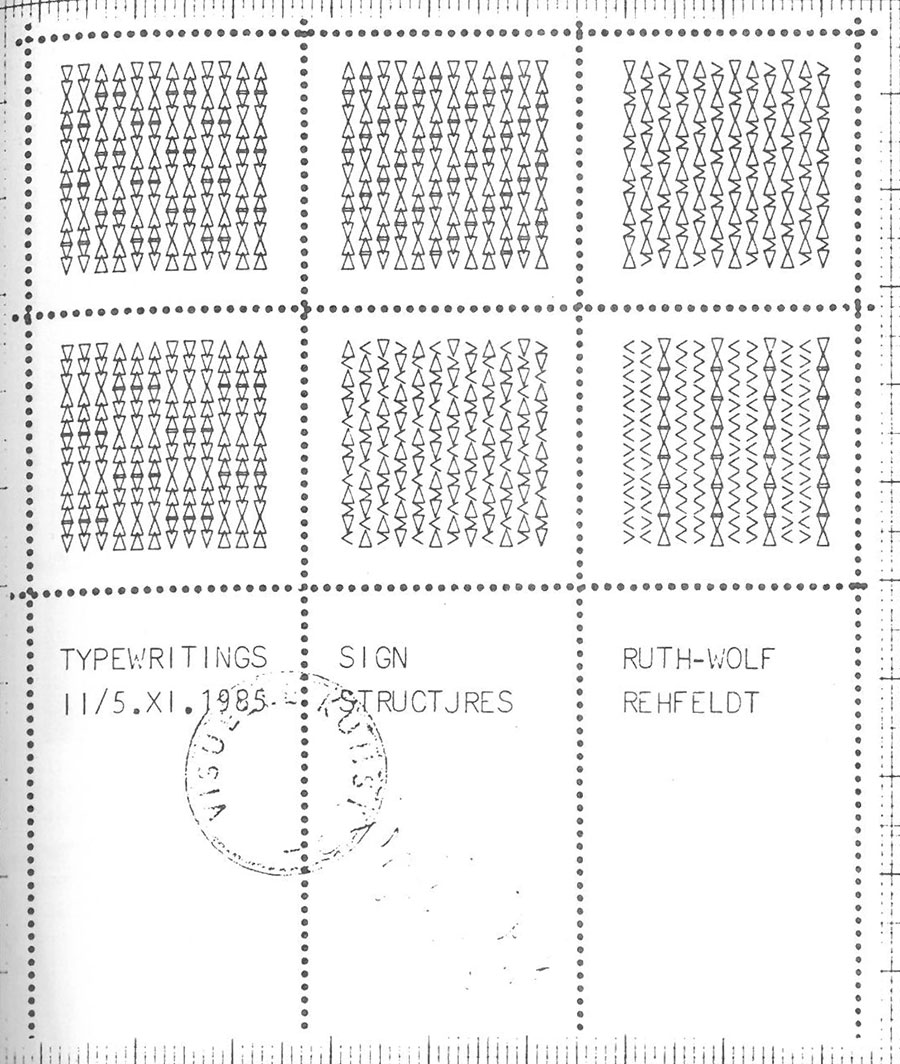 Work by Ruth-Wolf Rehfeldt
When Hot-Bip leaps to my eye, I immediately think of French Phillipe Laurent, for these Hot-Bip-figures on see-through foil are interspersed in his mail and also glued onto his envelopes. Lucien Suel's stamp contribution is a coloured copy piece on grey cardboard.
Among the "Great Britains" are 6 contributors. Emanuel Z. produced a handmade portrait piece plus a phototechnical genital stamp. D. Jarvis (hello, Mr. Aardverx - see you next time at the Tate!) put us a handcoloured stamp-double through in copy art. In the same technique I got several stamp sheets from Waste Paper Co. Ltd. Extremely well-styled stamp sheets arrived from Keith Bates. His Victorian Values carry a particular satirical message, by using the line Queen Thatcher. The exposition was also enriched by his commemorative stamp "Anna Bates, born 29.9.83". Art Nahpro sent us some very nicely decorated plug copy art sheets envelopes and single stamps as well. From Batty we also got a few copy art pieces.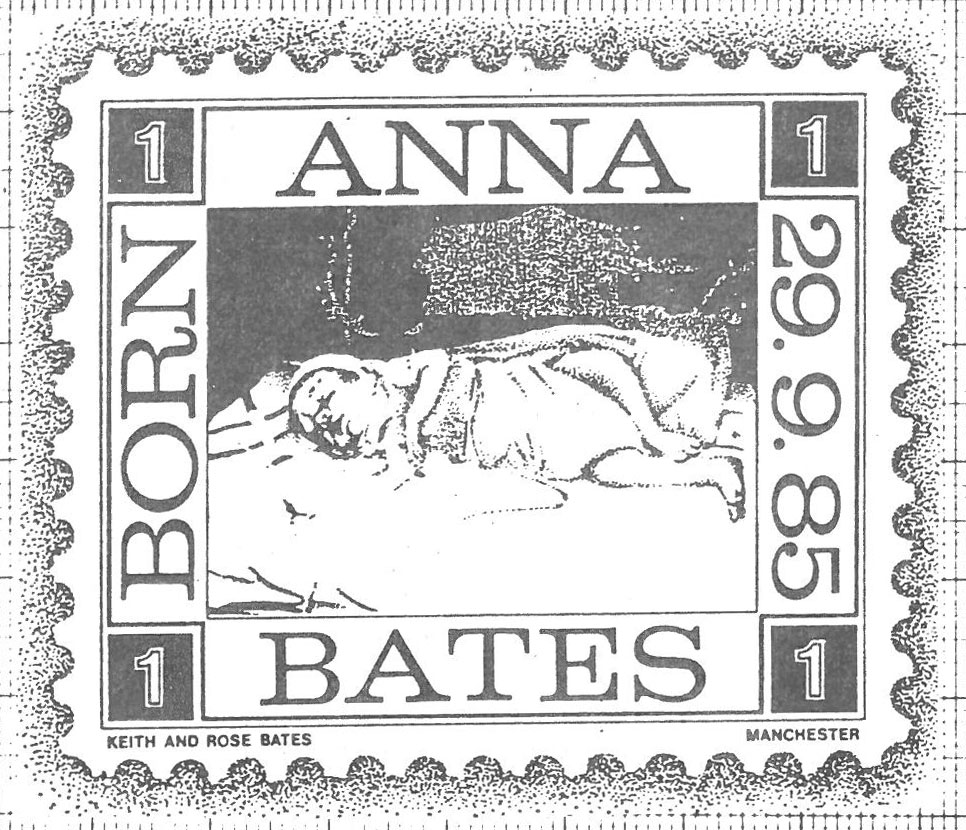 Work by Keith Bates
An interesting aside: the letter "I" is not only the initial for Italy, but also safeguards quite some Italian artists' names from behind. Much more interesting, however, are the postage-stamp-contributions interspersed e.g. by Baccelli in several intervals with his Woody-Allen-Stamps certainly disclosing Italo-erotic wit. While Ruggero Maggi points to Latin-American politics on well-styled stamp sheets, Strada exposes his typical collage concertante with interspersed stamps. Diotallevi is represented with his helmeted dove sheet, the Blue Maritius for Peace. Neoism is Baroni's theme. He advertizes this new art movement on single stamps, stickers, and copy art sheets at the same time. Ubaldo Giacomucci sent us also some sheet contributions plus a few coloured comics stamps. Serse Luigetti flooded us with copy art sheets by the dozens as co-productions of many well-known mail artists. Salvatore de Rosa exhibits multicoloured copy art sheets with each colour printed extra. Erotomanic E. Oliva shows a photo installation Penthouse where not only the watch chain blows up the frame. Bedeschi, again, contributes a stamp sheet in classic design, obviously a self-portrait, while Trenaghi on his self-drawn super-size stamp has one TV-like on the success of his 30th.
3 contributions arrived from Japan. Shimamoto made his self-portrait using multicoloured rubberstamps. From Cohen came his colourful signets typical of him for years now, which he arranges on envelopes. His single pieces have a drawn perforation on them. Nkahra presented us with a postage-stamp-designed envelope plus a few single pieces peculiarly torn.
From Mexico Espinosa sent some copy art sheets on the themes of corruption, suppression and violence in Chile and Mexico.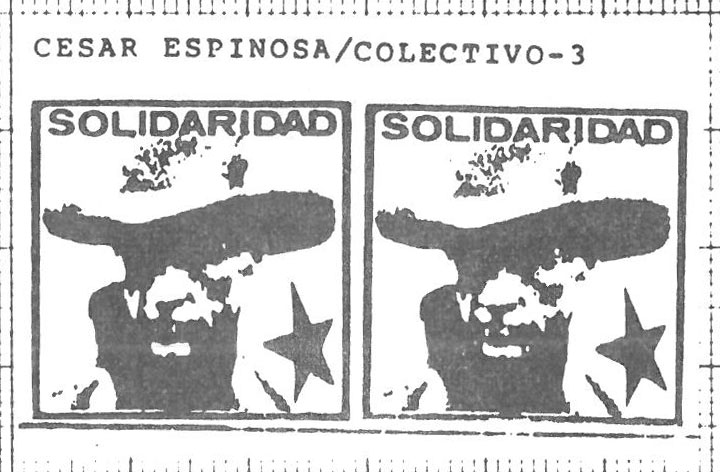 Work by César Espinosa (Colectivo–3)
The "Netherlands" were represented this time rather weakly. But: TAM is everywhere and gave us a broad variety of coloured stickers, glued on and interspersed in the mail. Monty Cantsin from Amsterdam goes back to the same method to intersperse his unperfed self-portrait, i.e. on cut stamps, in envelopes resp. glue them on.
The Polish contributions show rather diverse forms. While Dudek-Dürer uses his metaphysical theme once in a sheet collage, once as single stamp. P. Rogalsky's Buddhas have only the character of stamp outlines. Single stamp collages can also be found on his envelopes, as similarly from Swierad, Odja and Rupocinski who, however, mainly sent rubberstamp contributions. Many others regrettably shared this misunderstanding.
Portuguese Emerenciano may be regarded as a marginal case, since he skilfully rubberstamped together a stampsheet-like design. Open remains the question what definitely makes a postage stamp contribution. But meanwhile we have learnt that a rubberstamp can easily be converted into a postage stamp.
Lars Vilks from Sweden on the other hand interprets the classical postage stamp. He transforms his Nimis Project in Kullaberg into, stamp sheets, exactly perforated and gummed. The motive was phototechnically transported. The stamps can also be found stuck on his postcards.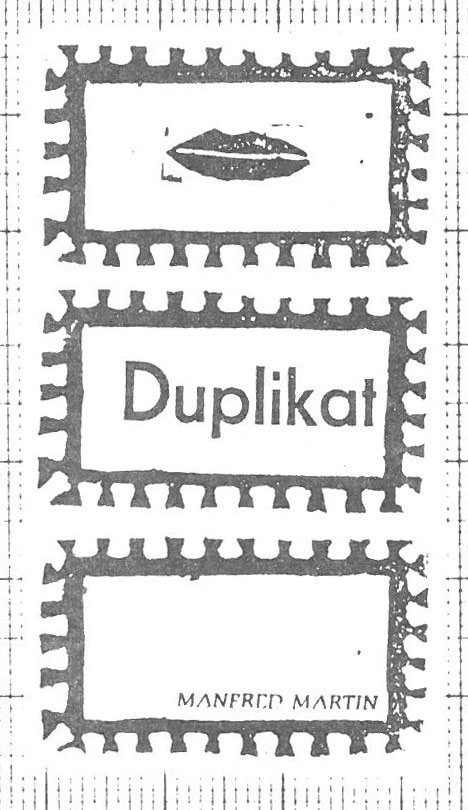 Work by Manfred Martin
Quite an important producer of classical stamp sheets is Swiss H.R. Fricker. His xerox-colour sheets reflect his experiences in America. His newer sheets in offset technique don't try to keep his Swiss abyss humour quiet.
Uruguay's representatives follow their political situation in their postage stamp contributions using copy art technique.
The Hungarians appearing here in Minden for the first time ever in an international mail art expo, were represented through several coloured contributions. Rudolf Takács's gouache series Visnu may be seen as a classic design for conventional stamps, like the one by Németh Zoltán showing coloured city views. Kelényi sent some colourful collages in which he transformed official stamps.
From Yugoslavia, we had 7 participants. Jaroslaw Supek sent several contributions in different techniques, among them stamp sheets bordered in various geometrical forms, one sheet on the theme Total, totally perfed like all his contributions. With 3 collages Bogdanovic took part. I. and R. Kamperelic sent a stamp collage each. From Djudjev is a contribution using self-portrait stamps. Tisma rubber-stamped a perfed stamp sheet, while Cekolje sent a structured envelope.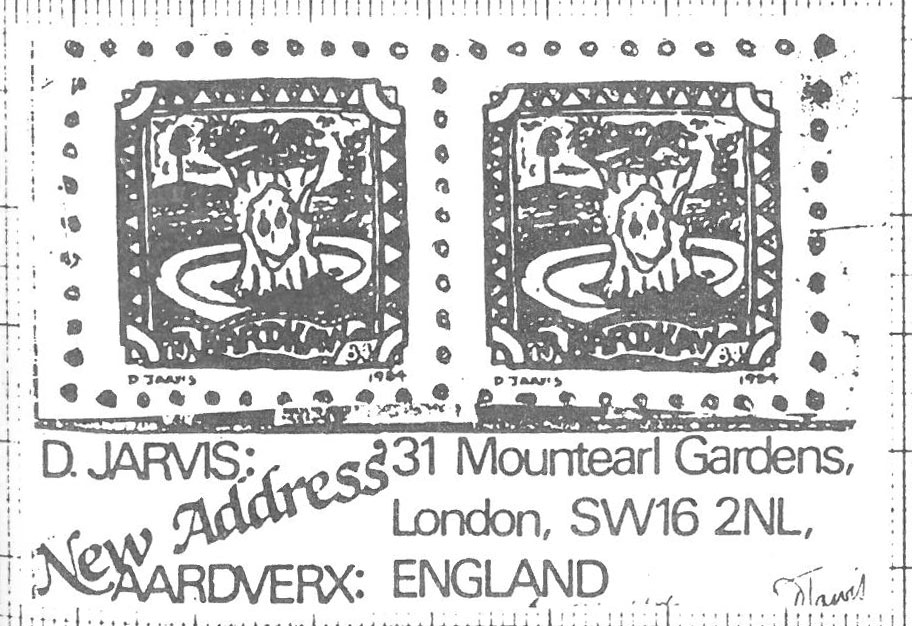 Work by David Jarvis
From the U.S. alone, 30 mail artists took part in this Postage-Stamp-Expo. They were not only the majority number-wise, but also profited from the colour-xerox-technique in making some excellent stamp sheets. Carlo Pittore immediately offered me 20 sheets for exchange, among them some colour pieces. Darlene Altschul also sent several coloured contributions, some of them tenderly hand-coloured and looking perfect. From A. J. Hirka is a sheet Pilgrims Progress Post in copy art with drawn perforation. Another copy art sheet came from Dazar entitled Make me smile. From Bob Kirkman is a designed marginal strip. G. G. Miles sent two hand-drawn Peace Stamps, while from A. G. Fallico arrived two sheet contributions in copy art.
Pan-Post sent Portrait Sheets and is also represented on the sheets coproduced with Creative Thing and John Held Jr. The two latter sent some stamp sheets, too, among them a curiously perfed sheet by John Held Jr. Rutkowsky also made several portrait sheets, while Carol Stetser was represented in some 4-U-2-Post contributions.
A sheet stamped Duchamp in colour arrived from Private World. Post Neo Rockola let us have 2 classical sheets, among them one in xerox-colour dedicated to the Rockola Twins. David Cole furnished us with several contributions of different nature partly in sheet form, partly cut into single stickers. Mr. Bop introduced a copy art sheet with glued-in colour photostamps, while Damien Gray contributed 2 perfed and gummed sheets from the series The inner circle of the ultra pure.
As unusual as their colourfulness is the history of the origin of Path Fish's sheets:
Enclosed for you are two sheets of marbled paper that I have had made into postage stamps. I am pleased to send them to you for your exhibition. They have a convoluted history. When Jurgen Olbrich came to visit he encouraged me to make stamps out of some hand-marbled paper that I had made with oil paints suspended on karageenan. I gave him four original sheets and he carried them to Cragg Hill who color xeroxed them and then they went to Buz Blurr to be perforated. So they traveled from California via a German to Texas, went back up to San Francisco in California, mailed to Gurdon Arkansas for perfing, then back to me in Santa Barbara California. This is true trivia documentation.
Poetess Teresinka Pereira left us a handmade single piece entitled The price of U.S., a root of imperialism. A Kurt-Schwitters-Stamp stuck on Fruit Basket's contribution who also made several contributions. Tostdada contributed the single stamp Boy, and a Series of stamp collages arrived from Barbot. There is a coloured stamp ensemble by Porter, copy art clippings by Mark Givens, from Oppen-heimer: a postcard collage, and from Monty Cantsin a respectively worked-on envelope. L. Way sent a colour collage with comics figures, whilst Patrick T. sent over a stamp stripe entitled Eat it up with respective rubber stamps on it. Last but not least Harry Fox with a copyart contribution like most of the others.
Last but not least the Federal German contributions (=West German). Beginning with Hilla Gruchot we see a collage of standard stamps, original ones and reprints referring to the theme of music (Bach/Händel). Collages with official post stamps were also sent by Graf Haufen, plus his self-portrait rubberstamps on a block of stamps.

Work by Serse Luigetti
Christian Lich contributed a single stamp, entitled Attempted Murder with reference to Ulrike Meinhof.
Sieglinde Kallenbach also used her rubberstamps to make a block of stamps.
From Klaus Groh we received among others his Wedding Post, a copy-like stamp sheet. Frieder Kerler and Gerd Rokar as well used perfed stamp sheets and worked on them with rubberstamps in several colours, while F. J. Weber drew abstract acts on such a sheet adding partly nitpicking texts. Hans-Alvesen had a big painting hit with his dead-and-devil sheets. Living up to his surname once more, as so often before, Bernd Löbach-Hinweiser (="Demonstrator") sent a designed envelope on the theme Protect the woods. Henning Mittendorf used self-made stamps for a collage. From Jürgen Olbrich a dozen stamp sheets arrived part of which he did during his visit to America this year. Manfred Bartling contributed a stamp design of pictogrammatical content, while Carmen Berr handed in a zig-jagged photo of herself. Bernd Olbrich's richly perfed contribution shows a spartan design. E. Seifried's collage turns out to be a filigrane masterpiece. More exactly, it consists of 16 mini collages a conventional sheet of sports stamps. From Jürgen Kierspel we have stamp-covered envelopes. As stamp sheet editor Peter Küstermann is now also romping about the scene with his porto edition. At the moment, he uses up perfed raw sheets of printers' stocks for coloured copies with different toners. Shortly before the deadline, Achim Schneyder sent us still one of his little perforation art pieces, which doesn't seem to have been difficult for him, since he has set up a Centre for Artistic Perforation in Kassel/Hessen. As mentioned above already, stamp sheets also meet my own creative interests. When colour is necessary I use offset technique. This happens on perfed raw sheets made by commercial printers. Occasionally I also combine official poststamps with my own stamp sheets, because they stick out as special contemporary documents by the official postal rubber stamp.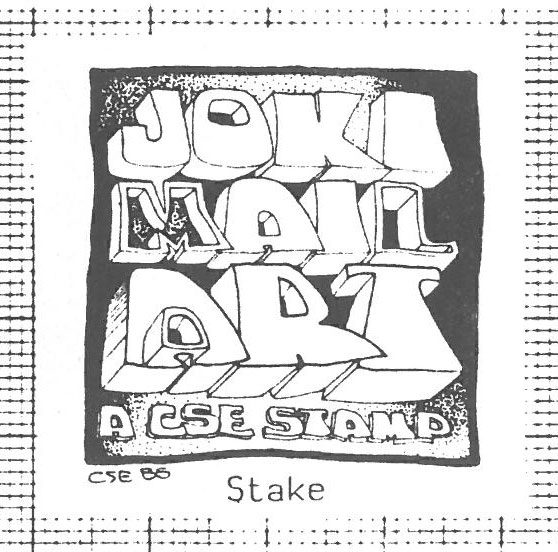 Work by Chuck Stake
The present Artists' Postage Stamp Expo in Minden, let me mention this as a final remark, has created a vivid interest in a public audience that had partly had a very sceptical attitude towards mail art before. This interest was achieved not the least because of the good quality of all the artistic contributions throughout.
The documentary decription above is to be supported by sufficient visual material as far as technically possible. Since only a few artists wanted their contributions sent back, what I will do, I enter into mutual exchange with the others. I will also in future be available as exchange partner for postage stamps, because I certainly intend, after a suitable while, to arrange another still bigger expo.
May all the contributors be offered my cordial thanks.
Trans-posed by Peter Küstermann