Anna Banana: Women in Mail Art
Banana, Anna: Women in Mail Art, in: Correspondence Art. Source Book for Network of International Postal Art Activity, Contemporary Art Press, San Francisco, 1984, pp. 279–300. (Ed. by Michael Crane – Mary Stofflet)
"Women in Mail Art" is adapted from the introduction to Vile #6 Fe-Mail Art, 1978. Anna Banana describes the activities and contributions of women to the field.
The postcard is a long established format of which we have many proponents, ranging from one of the founders of Berlin dada, Hannah Höch, through contemporary mailers such as Angelika Schmidt, Irene Dogmatic, and Pauline Smith.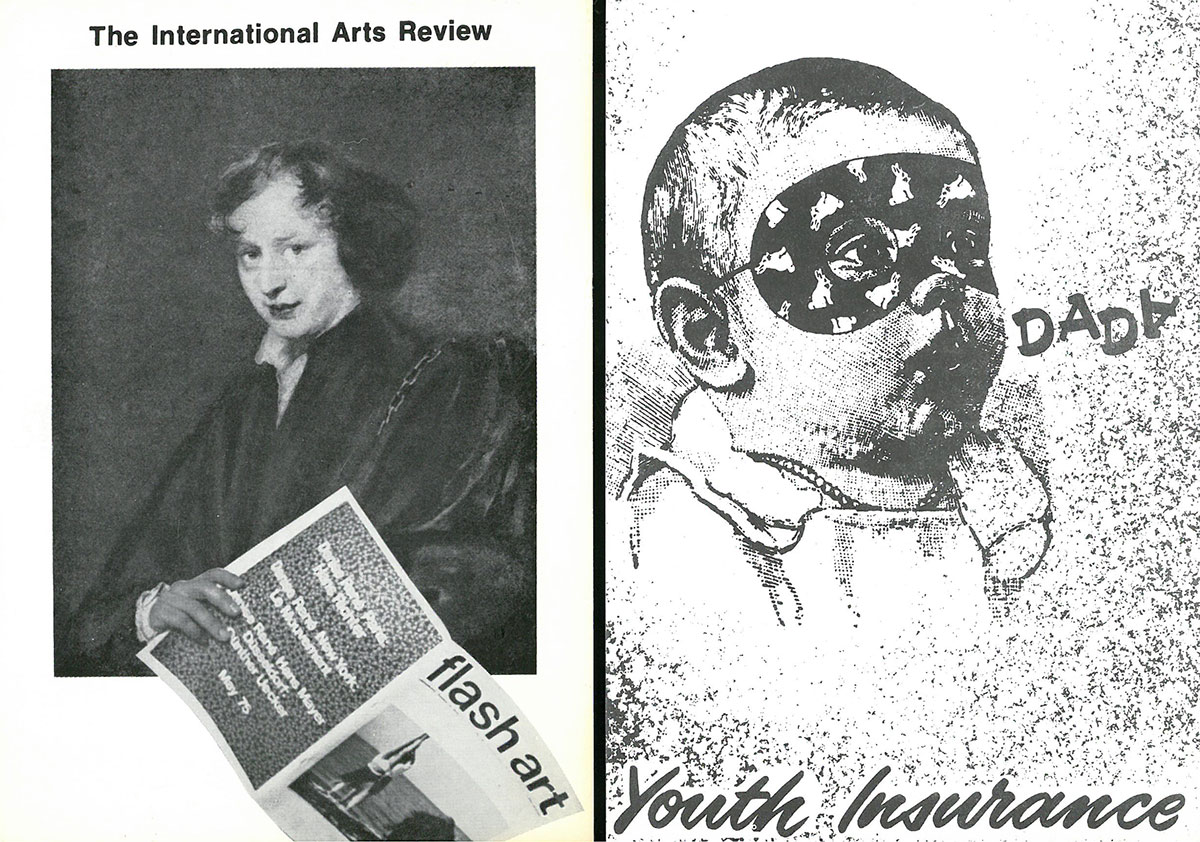 Postcard by Angelika Schmidt
Born in 1889, Höch was the only woman involved in the founding of the Berlin dada group in 1918. She and Raoul Hausmann were among the first artists to use photomontage, for which her work is mostly noted.
Angelika Schmidt is noted for her one-of-a-kind collages, in which she employs rubber stamps, while Irene Dogmatic's works are mostly photomontages of herself in various identities, printed up in editions of 500. Dogmatic and Pat Tavenner (Mail Queen) did a number of collaborations in this format during the peak of Pat's involvement in mailing (1973-75 approximately). Ruth Rehfeldt in East Berlin specializes in concrete/visual poems, and has employed the postcard as a means of distributing these works.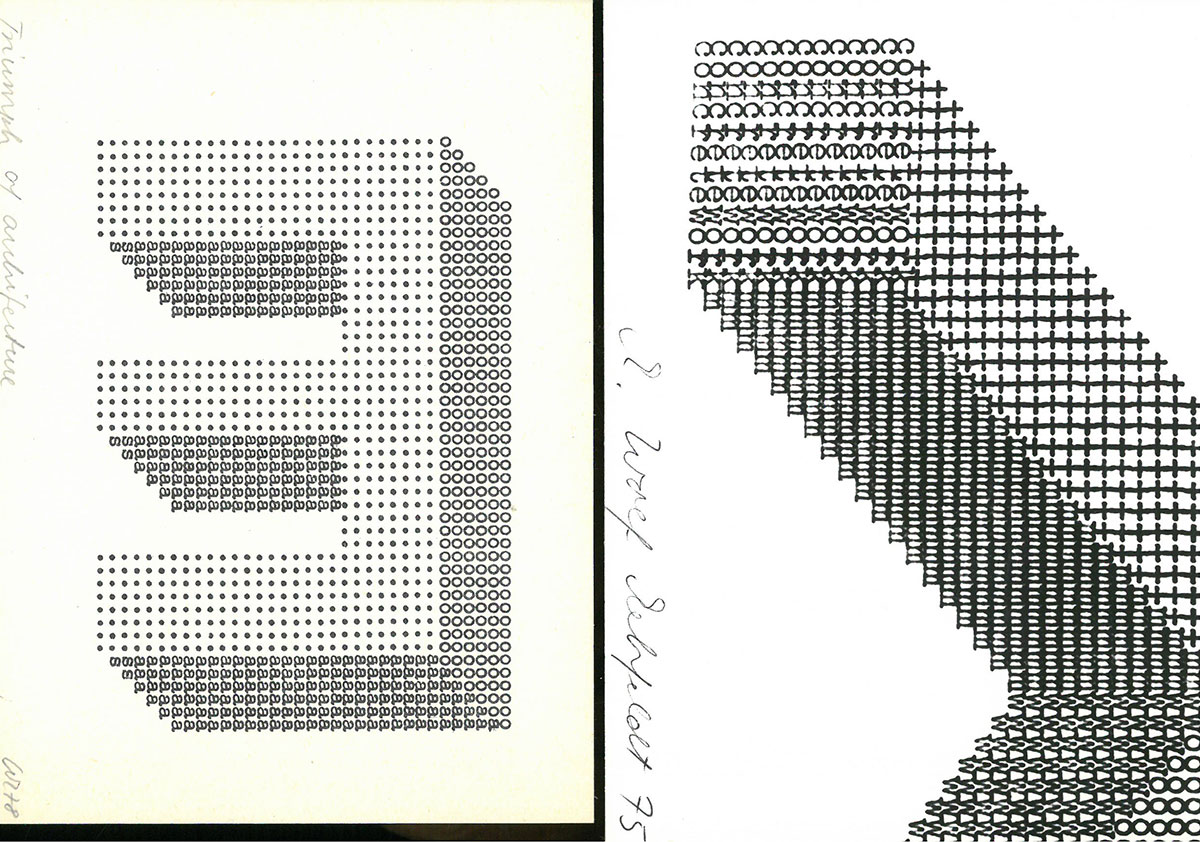 Postcard by Ruth Rehfeldt
Some letters are written as communication, and some purely as art. There are a number of decorative letters which also contain straight communications, such as that from Ms. Zazu Pitts, concerning the change of the name (Ms. Pitts) of the gallery which she jointly runs. I haven't heard what the new name will be, but apparently prospective new members were not joining as "Ms. Pitts" was considered to be obscene!
We are calling "postal art" everything we have received via the mails that is neither a letter nor a postcard. Top on the list of items that are classified as postal art are mail art mags, quick-print editions of 100 to 300, on an 8V2" x 11" or 14" sheet, folded twice or four times—such publications as Irene Dogmatic's Star Spanieled Boners, Rover's Romances, Canus Book of Dog Records, and Collected Barks, some eleven editions to date in which the material was collected via the mail network; Lisa Baumgardner's Modern Girlz, Rhoda Mappo's Road Map, and my own Sometimes Yearly Banana Rag.
Next in this category are the invitations to participate in various mail art exhibitions and/or publications such as The Money Show, organized by Meredith Rogers of the Ewing Gallery at Melbourne University in Australia, and the California Dada show held in Sydney's Sculpture Center, a collaboration between Betty Kelly, gallery curator; Terry Reid, globe trotting art entrepreneur; and myself and Bill Gaglione at this end. Ula Rbaczeh, founding member of Commonpress, is part of a group called Uni-Art, in Poland, which organized dot In the Circle '77 exhibition in November 1977, and the Xmas Mail Art Show in December. Swank was a New Year's Eve mail art exhibition in San Francisco staged by Sabina Ott and Ms. Elaine Neour. All mail received was opened on New Year's Eve. Aside from these mail art exhibitions, there are mail art works which involve persons responding to an initial mailing by an artist. Ashley Walker's Mail/Mail Art exhibition in Texas, January 1978, is of this type.
Second Coming is the title of a purely postal art work that had its beginnings in Venice where Jan Van Raay distributed 100 numbered postcards of her own design in postcard racks throughout the city. Each card was addressed to her home in New York City; and bore the following message (in English, German and French): "This is an art process. This card is free. Please return it (or a substitute) to the artist with any message. Thank you." On her return to New York, Jan did a xerox booklet of the thirty-eight original cards that were returned, along with nine other responses. The booklets were then mailed out to all participants.
Within these postal works, many media are used, but one of the most consistent is the rubber stamp. Images as well as words are employed in this fashion, and these are used pictorially, decoratively, or structurally in collages and letters. One artist who creates a great deal of her imagery through stamps is Leavenworth Jackson, whose imagination brings forth whimsical and surrealist scenarios using rubber stamps and a few drawn lines. She has put out several limited edition books of these works, including Perseverance Furthers, and This is a BookBook-BookBook... etc. which seems to be a part of a series.entitled Clown War 12-A, 12-B, etc. Formerly of San Francisco, Ms. Jackson has moved to New York, where she is art director of Liberty magazine and still has time to have her works appear in the New York Times, the Village Voice, and various other periodicals.
Annette and Aart van Bamevald of the Stempelplaats Museum (of rubber stamps) in Amsterdam have begun putting out a publication, Rubber, which features works by artists currently showing their work in the gallery.
Others whose works fall within the category of postal art are those who are engaged in body art on the home front, but use the mails as a method of distribution. Cosey Fanni Tutti of Coum in England is such an artist, putting her own image in many contexts, for example, a piece entitled Prostitution, which caused quite an uproar when it was exhibited.
Irene Dogmatic is another body artist, creating photographic images of herself as a punk-rocker and general tough, "lady bigfoot," or Wonder Woman. Many of these images find their way into her postcards, but she also distributes them as xeroxes and in her little mags. While Ms. Dogmatic is currently pursuing an active role in the punk rock movement, having formed her own band, she assures us that rather than abandoning her work as a painter, she has found more varied imagery for her painting in the punk rock scene.
And what else could you call Ms. Pitts' Armpit of the Nation exhibition but body art? ... whether you like it or not. Likewise, the photos in which Hissie, of Chicago Cinema, appears, are definitely of the body art variety, creating a scenario through costume, makeup, lighting, and dramatic arrangement. These are photos in and of themselves, rather than photos of a performance one might have seen. There was no performance but rather a photo session in which the images were created.
Those interested in preserving their works should keep in mind the following archives. Jean Brown Archive in Tyringham, Massachusetts, collects early dada, surrealist, and fluxus material, along with contemporary postal works. Visits to this archive are limited and should be arranged in advance by letter. Franklin Furnace is another archive of contemporary art publications, under the directorship of Martha Wilson. Located at 112 Franklin Street, New York, the archive is open to the public during regular business hours. The existence of these archives, along with a bookstore called Backworks, run by Barbara Moore, which stocks only fluxus documentation and other early mail art works, gives evidence of the growing number of artists involved in publication as a medium of creative expression.
Other publications with women at the helm as editors, producers, or publishers, either by themselves or with a partner or group, continue to proliferate. Sometimes they are one-shot efforts, such as Rabbit Pellets by Smart Sue, who has dropped from sight. Others continue on a regular or irregular basis.
Jeanie Black was among the early mail art book collaborators, putting together several editions of 8 x 10, an unbound portfolio of works in which the contributing artists sent in 200 copies of their work(s), and Ms. Black collated, packaged, and distributed the assembled works as editions of 8 x 10. Another collation publication which is still in operation is Geiger, a magazine of experimental poetry from Italy which is co-edited by Giulia Niccolai.
Soft Art Press, a quarterly mail art magazine from Switzerland that reproduces postcards, rubber stamps, and mail art notices, is produced by Noémi Maidan. Janet Schmuckal, of the Museum of Temporary Art, Washington D.C., is the editor and producer of MOTA, which covers activities in her own gallery, and has eleven issues out to date. High Performance magazine, under the editorship of Linda Burnham in Los Angeles, is dedicated to "providing a chronicle of performances produced each year in Los Angeles and elsewhere, and as an exhibition space in which performance artists [and sometimes mail artists] can present documentation of their works." The best all-around source of information we know is Judith Hoffberg with her newsletter Umbrella, which spans the art and literary worlds with apparent ease and agility. A librarian and former editor of the ARLIS Newsletter, and enthusiast for new developments in the field of books/art, Hoffberg embodies a unique combination of skills, knowledge and connections. An insomniac and avid reader, she's in touch with what's going on in more circles than anyone I have ever met or read.
La Mamelle's big International Rubber Stamp Exhibition in April–May 1976 would never have materialized without the enthusiasm and organizational work of Carol Law, herself into multiple images for years, including those made by rubber stamps. Besides organization and enthusiasm, Law contributed an article to the exhibition catalogue, and a number of works to the exhibition. A long time enthusiast of experimental media, Law has participated in many mail art exhibitions utilizing black and white and color xerox technology.
Pauline Smith has been consistently involved in the mail art network in the past few years with her Adolph Hitler Fan Club and more recent Corpse Club. Because of the controversial subject matter, she has been harassed by British authorities, postal and otherwise. My view of her use of this theme is that it reflects what she sees happening around her, rather than it being a policy she advocates. Upon the occasion of a train wreck, caused by a bomb which split the cars open "like peeled bananas," Pauline sent a postcard with the headline to me for my banana collection. A day or so after she mailed it, she returned home to find the British Bomb Squad ransacking her apartment in search of a "bomb factory." They found none, so left her alone with the mess. She has since moved and things seem to have quieted down, but not Ms. Smith—her mailings keep coming.
In postal art, one is not limited by age, as the network has witnessed in the works of May Wilson of New York, who is still active in her 60's, and in the works of Ms. Generality (Canada's answer to Mae West), who has likewise passed beyond the realms of postcards, stamps, and rubber stamps. May Wilson is better known for her assemblages than for her mail art, but that is probably because those works are more showable/salable, while the mail art is more a communication process for her—or at least, an art form which is given little recognition in the major art media.
There is no censorship in mail art, except on the receiving end. What gets kept by other correspondents or collectors and librarians depends a lot on their situation. Some keep everything, some recycle and send on, some edit and file... but from the sending end the whole thing is wide open.